Joined

Jan 22, 2003
Location
TDI

none
I have a coolant leak. I tracked coolant loss due to no time to work on the car; it did not get worse and it does not leak from a "dangerous" location where subsequent damage would be likely, so I just topped up (about one pint per week-10 days).
It drove me nuts to find the exact location. It will not leak at idle, it will not leak with the a/c on (to drive temps up). I could see residue on the block underneath the thermostat housing, so I figured that was it and replaced it. Nope.
Higher rpm and wiggling of hoses finally revealed the location - O-ring #11, where the coolant pipe enters the block: ******WRONG PICTURE!!!! THIS IS THE 1.8 T**** CHECK PIC LOWER IN THE THREAD!****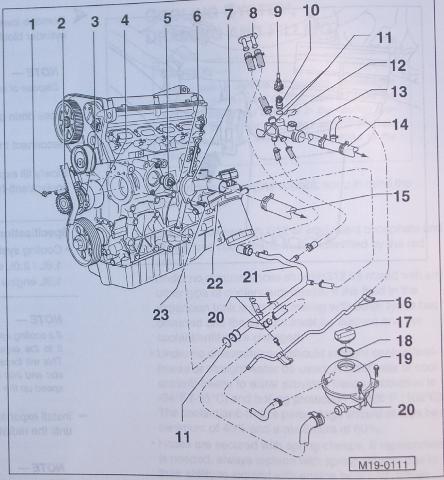 Now my questions, mainly to figure out how much time I have to set aside to fix it:
how is the pipe attached to the block? Is it just pressed in there/snapped in?
can I just pull it out (by pulling it to the right side) with the other hoses still attached, or do I have to disassemble everything else that is attached to it? (I have a Beetle, so that is a PITA in that location).
ETKA part # for the darn O-ring and the coolant pipe (in case it tuns out to be rusted or leaking at a seam).
Many thanks!
Last edited: