Joined

Aug 8, 2004
Location
TDI

03 Jetta, 03 TT TDI
My 03 Jetta has ~170k miles on it and has served me very well over the last 8 years, but it's starting to show it's age and need some work
Shocks/Struts/Mounts - Original and tired
Ball Joints - Loose
Tie-Rod Ends - Loose
Motor Mounts - vibrates and moves a lot
Headlights - really hazy
Antenna base - radio all fuzzy most of the time
Cabin Fan motor - makes noise when below ~10F
I figured I'd probably put springs in it while the suspension was apart.
By the time I'm done with all of the above I'll have ~$1500 and 2-3 full days in it.
I spent this last weekend doing my research and putting my parts lists together at various vendors, but have not ordered anything yet.
So, on my way home tonight from work, crusing along at ~50 MPH in 5th and go from 25% throttle to ~35% throttle and it accelerates normally for about a second and then stops accelerating....wierd....back off the throttle and get back into it and it accelerates but definately has a different "note" to the engine.
Pull into a parking lot under a light, white-ish smoke coming out the exhaust, engine running on 3 cylinders shaking like hell, remove the oil fill cap while the engine is running and a geyser of smokey mist shoots all the way to the hood and pushes my hand out of the way. Put the cap back on, close the hood and get back in the car. I'm 8 miles from home at this point - may as well go for it.
It was a calm night with minimal wind so the car looked like it was on fire at stoplights it was smoking so much - sounded like a WRX when taking off from the lights on 3 cylinders
.
Get it home, pull in the garage, rip it apart and find this in hole #3...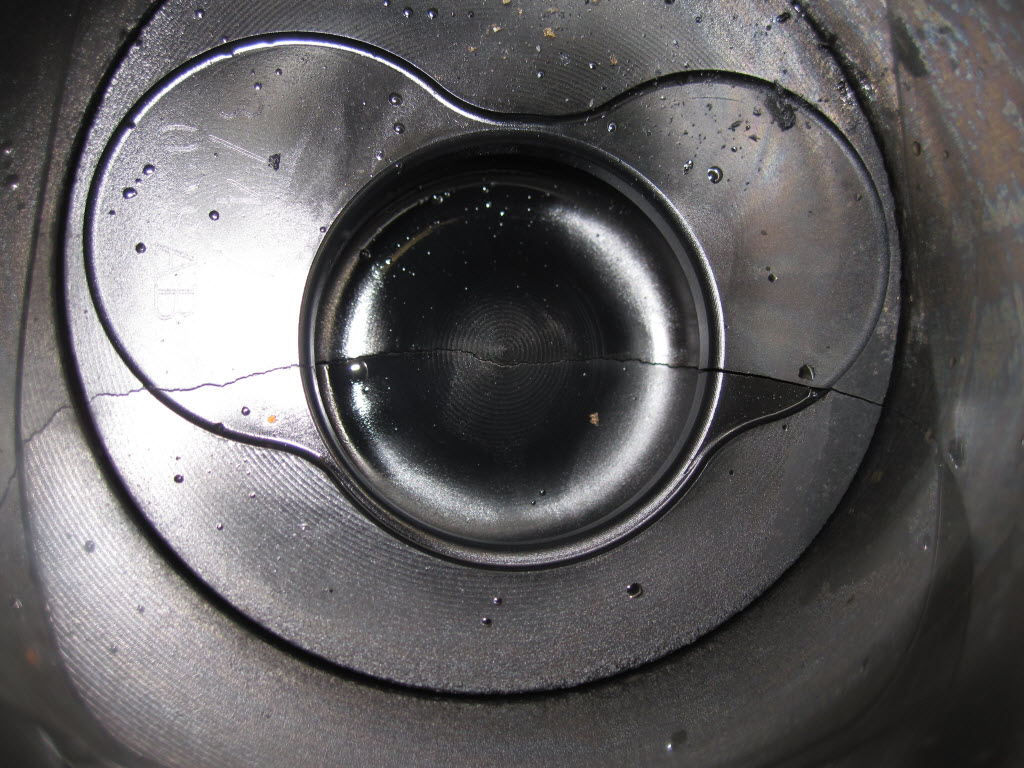 The bore looks spectacular in #3
There were some wierd marks on the cylinder walls of the other pistons as well - This is #2 - both sides of the bore. You can't feel anything in these areas, but it sure looks like the wristpin was sliding along the cylinder wall.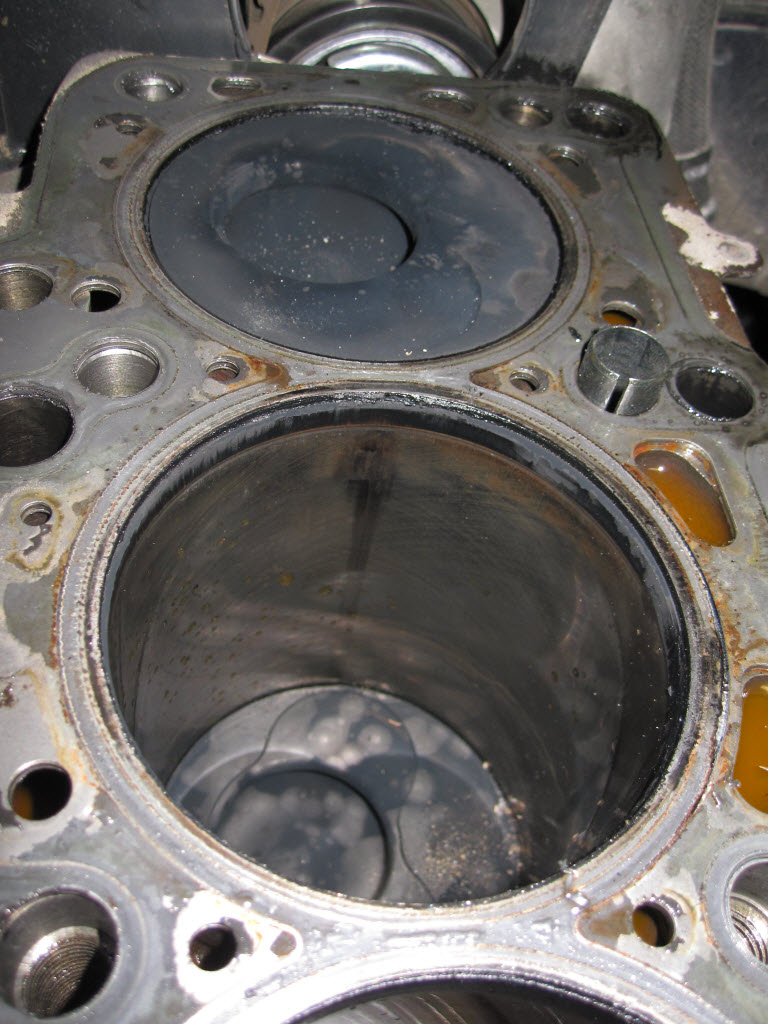 This is #4 - The rusty looking radial marks about halfway down the cylinder are in both #4 and #1.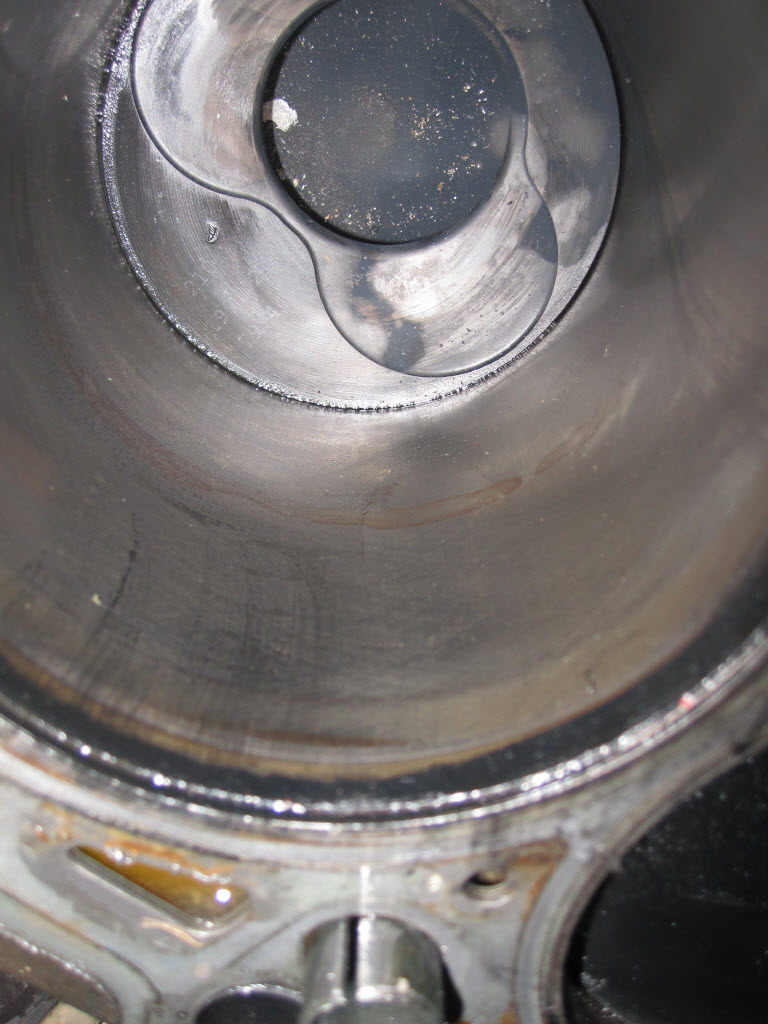 They don't wipe off and you can't really feel them with your fingers at all - do the bores ever crack and seap water?
So, I need a piston at the minimum - most likely a set.
Stock ALH pistons? Coated? Deeper valve reliefs? Lower Compression?
May as well do rings and rod bearings as long as it's apart...
Do I put main bearings in?
Do I put aftermarket rods in?
There's really no cylinder wall damage - a few passes with a hone will clean it up (assuming there's no cracks or anything in it).
Should I pull the whole engine or try and do this "in car"?
Anything else I should do while it's apart?
Is it worth repairing?
Any thoughts as to why it cracked a piston?
It's been a couple thousand miles since I pulled a trailer with it - it didn't run any differently before/after this, but it was definately a workout
- sustained high loads and temps.
I would like to significantly improve the power in the 1000-2000 RPM range
Maybe I continue to
look at new cars like I did a couple weeks ago
...though I could do a lot to the Jetta with only a years worth of car payments....
So, back to the original question....Where do I stop?