Well, this 98 NB TDI has really been a rip.
One of the best cars I've ever owned and driven on the planet. Unfortunatley, outlaws and theives seem to think so too in their miscreant evil minds
: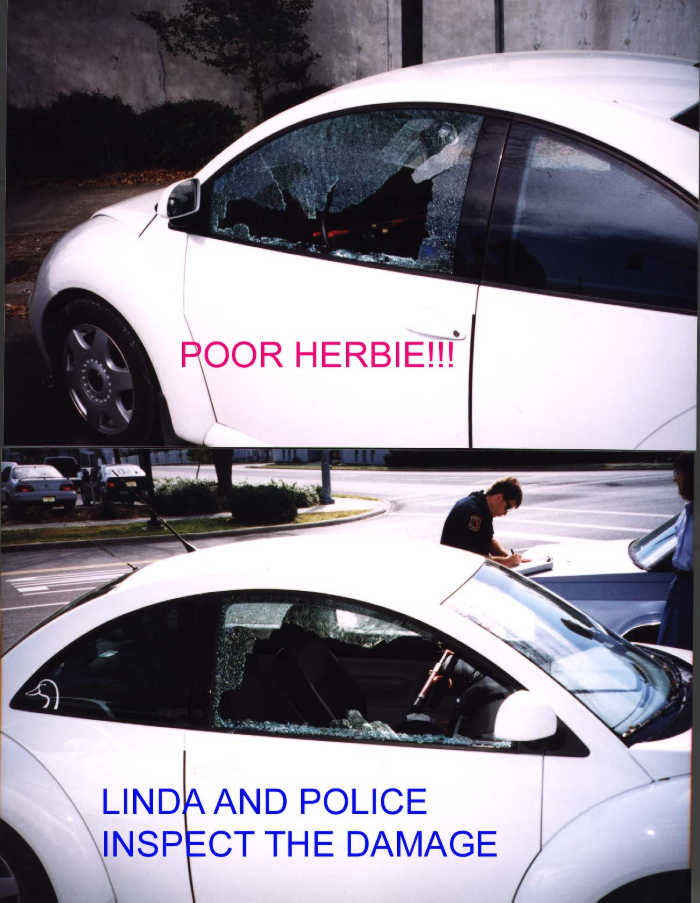 Poor HERBIE!!!
Some low-life SOB took a brick and smashed out not one, but both door windows in his vain attempt to gain something of value for nothning, except the chance of a bust.
The wife chugged into her parking spot on the public street directly in front of the Federal Court House on Downtown Main Street at 8AM on a weekday and only 30 minutes later I received a call from the police at work asking me "Where is your wife?" Like hey man, what do you mean where is my wife, she is at work!? Well not quite, your vandalized Volkswagen Beetle is down here abandoned on main street! WHAT!! I'll be there in 10 miutes armed locked and loaded, in the meantime you damn sure better find out where exactly my wife is!!!
At the scene of the crime, the wife shows up from work across the street after the police located her and is crying her eyes out over the condition of her beautiful NB TDI. She can't talk at all so I do all the talking.
Bottom line is the Salvation Army Soup Kitchen is down the end of the block next to the methadone center and some Riff-Raff figured Herbie might be their ticket for their next fix. Too bad for the miscreants though, only thing missing was the owner's manual which I recovered down the block in a gutter next to some contaminated hypodermic syringes. I guess I could have retreived the blood from the syringes, added some DNA polymerase to it, and PCR'ed up some signal DNA from the blood for a complete genetic footprint with HIV and Hepatitis determinations, but who cares, its just water over the dam.
With the $500 deductible, the $258 charge for the new windows was our contribution to the cities homeless problem. Not even enough for an IRS tax write-off.
Oh well, you live and survive in these modern cheerful times. The wife and Herbie are back on the road again, no problemo. That TDI is rip-snorting and not blowing soot anywhere, only eating asphalt for a snack now! GO Herbie GO!!!
I have learned that we don't have to ditch bad friends because their dysfunction makes us feel better about ourselves.
------------------
99 JETTA TDI HERR WETTERAUER TORQUEMEISTER
98 KAFER WETT SPEKTAKULARE TURBOKOMPRESSOR
97 KTM 620 ADVENTURE RALLY PARIS-DAKAR SUPER THUMPER
ICH LIEBE MEIN TECHORAD VW TDI'S MIT DIREKTEINSPRITZER TURBOKOMPRESSOR
[This message has been edited by SkyPup (edited December 07, 1999).]