Joined

Aug 8, 2004
Location
TDI

03 Jetta, 03 TT TDI
The Premium VI double DIN radio in my 03 Jetta has done well, but I've been wanting to get something a little nicer that will take AUX inputs and such - especially since my antenna base is crap and I can't even reliably tune local stations, not to mention going on a road trip is lots of static. I've got about 1000+ miles to put on in the next few weeks and don't want to do it without good tunes, so I found the
RMT200
for sale at
www.deutscheautoparts.com
and decided to give it a try with the associated adapter harnesses. It's an OEM VW Single DIN radio with Bluetooth, 3.5mm Aux Input, USB Port, SD Card Slot, A2DP Audio Streaming (whatever that is?). All of it showed up at my door for $325 including shipping - a little spendy in hindsight, but I do like an OEM solution as most all aftermarket radio's look gaudy and never seem to have a clean looking install.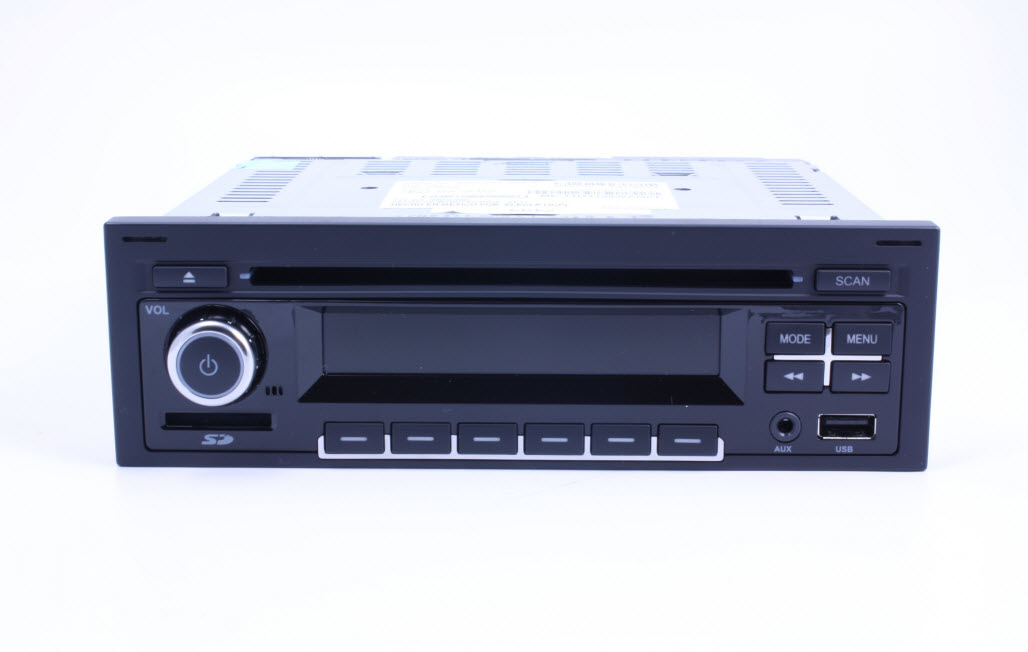 The deutsche website implies that when you buy the adapter harnesses, that it's a plug and play install - not quite. In the end it's relatively simple but it took me a fair amount of work to figure this out because of VERY poor instructions included with the unit. I did a fair amount of looking on TDIClub, Vortex and any other place I could think of and didn't have much success, so I figured that I'd document what I did here so the next guy does not have to struggle through this like I did. I do not have steering wheel controls or a CD Changer or navigation, or phone, etc - just a radio so that's what the below applies to. You may need to go about this differently to integrate the other features if you have them.
This is the main harness adapter as it's comes in the box - plenty of loose wires to figure out where they need to go.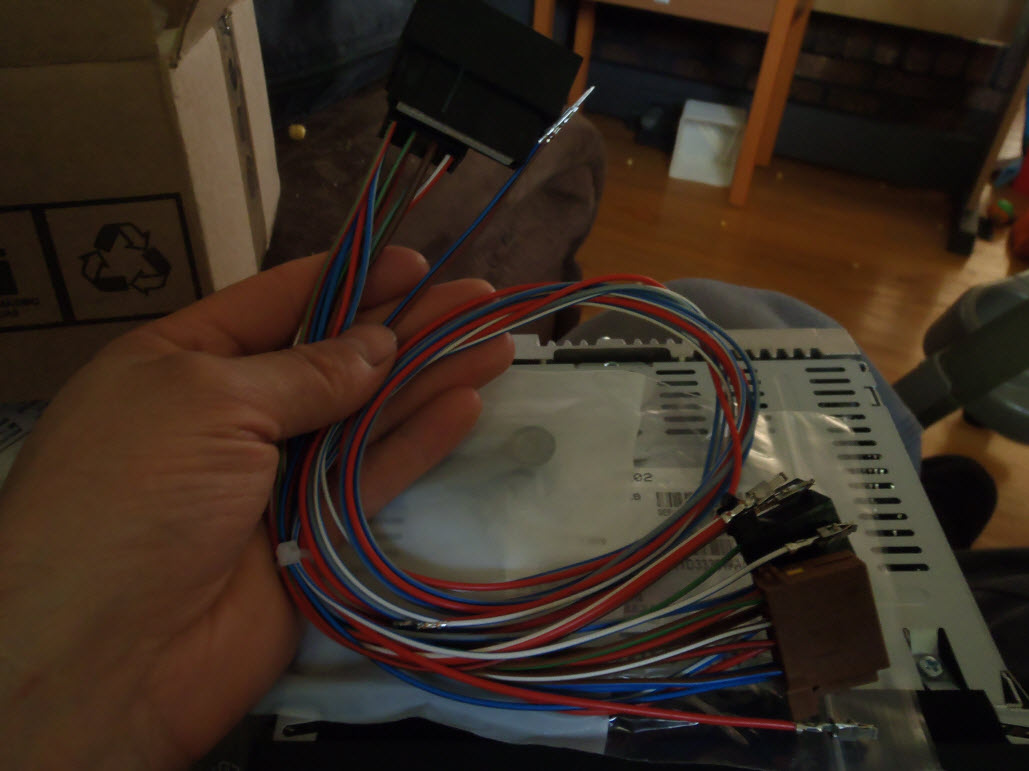 Here are the original instructions - I especially like the "Insert cable in the connector as shown in the instructions for the radio". These instructions for the radio are not included so you're left to guess.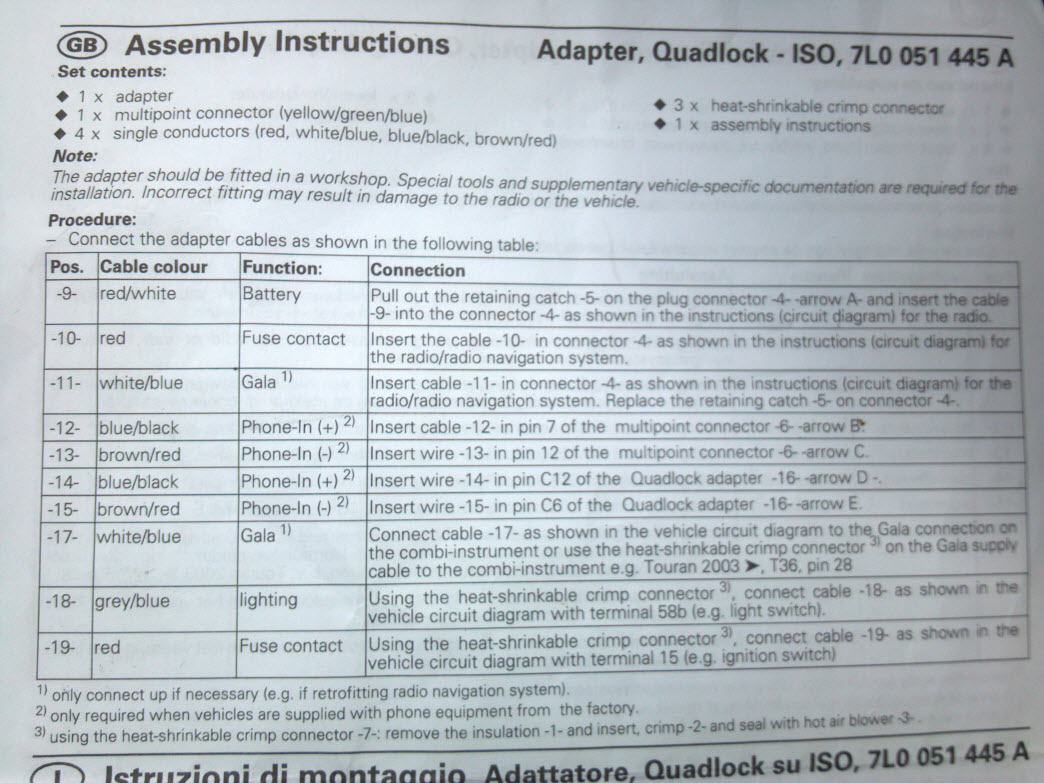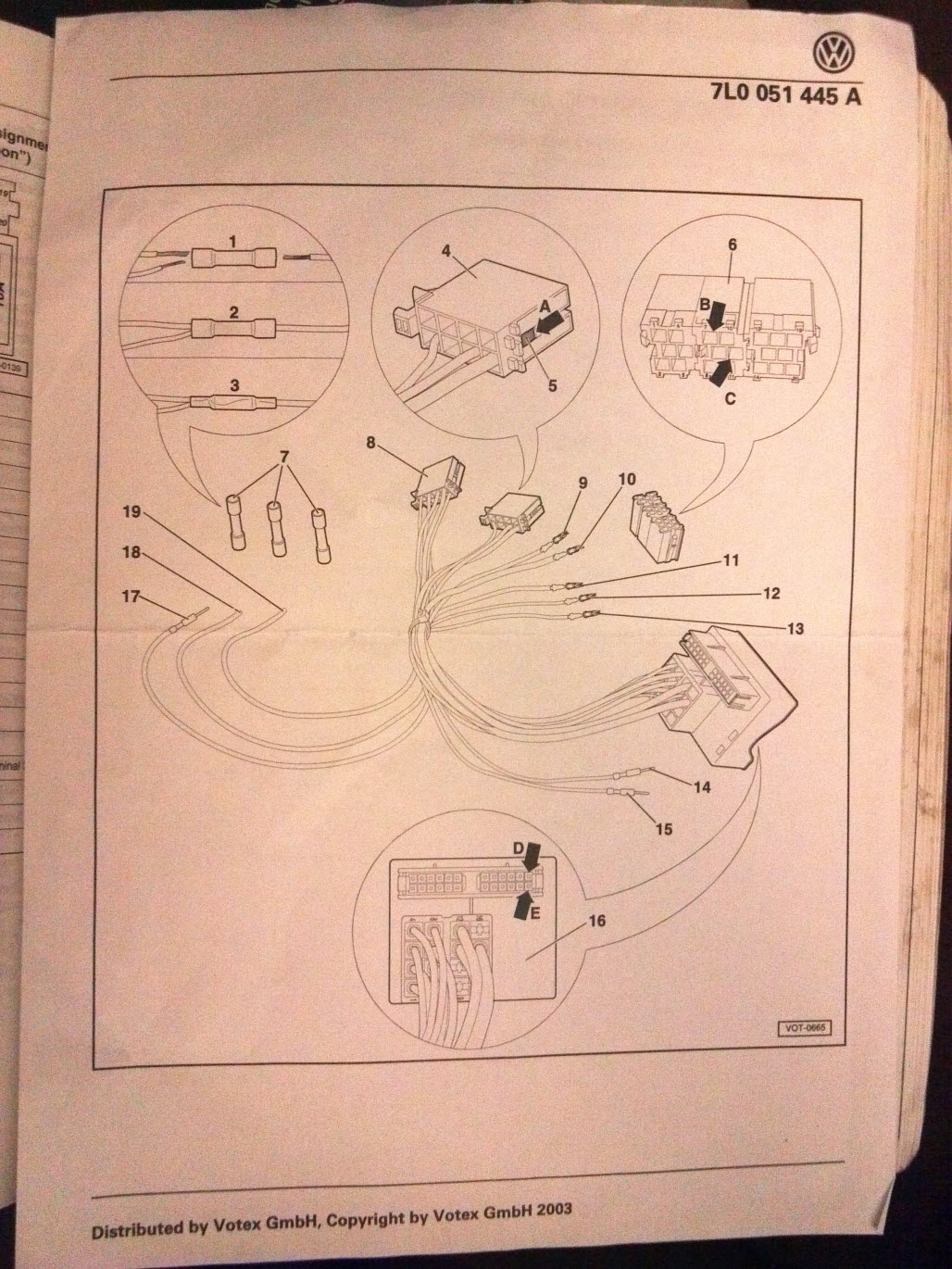 The tan 8 pin connector for the speakers is done right - no changes needed, just plug it in
The black 8 pin connector for power, ignition, ground, etc was more confusing - It only comes with 3 wires in it but you'll need 5 when you're all done and have to move one. Here's the pinout and what should be connected to what.
1) No Connection
2) No Connection (came with Green with Grey stripe - Move to Pin 5)
3) No Connection
4) To switched power (typically ignition) - Solid Red Wire (long wire)
5) 12v Constant even with key off - Green with Grey stripe
6) To dash light dimmer switch - Grey with Blue stripe (long wire)
7) 12v Constant even with key off - Red with White stripe
8) Ground - Brown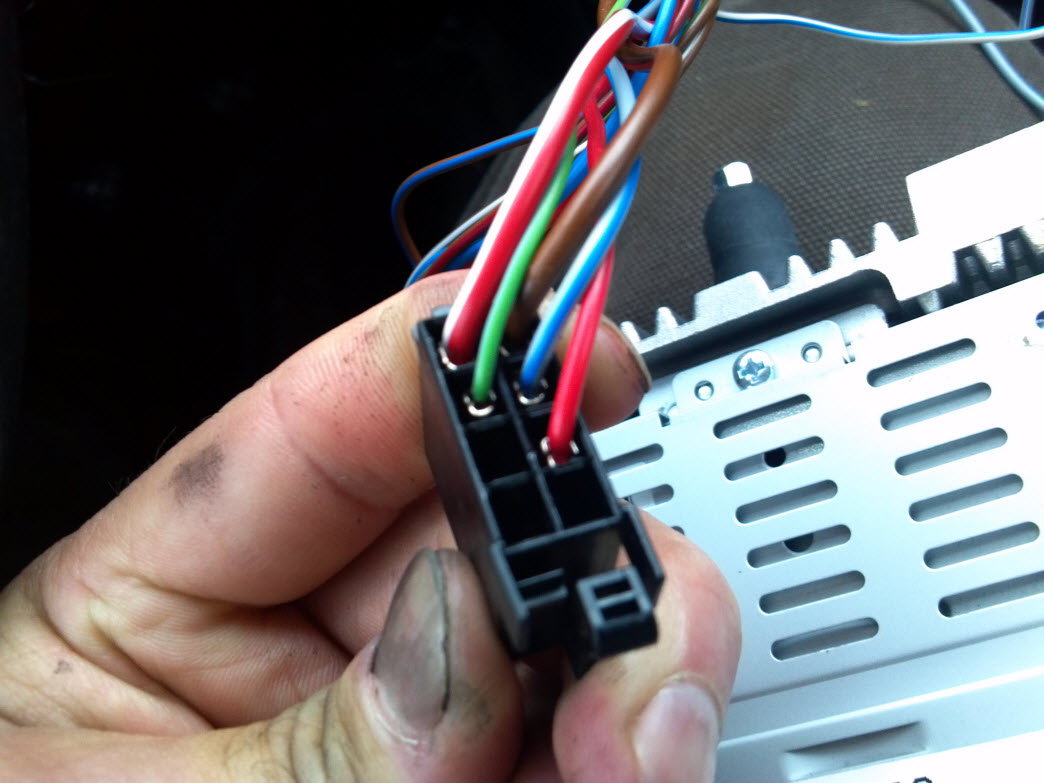 The "Quadlock" connector is also relatively simple - one wire move. Pins 1-8 are the speaker connections and require no changes. Pins 9-16 require one wire move only - pinout below
9) No Connection
10) No Connection
11) No Connection (came with Green with Grey Stripe - Move to Pin 16)
12) Ground - Brown
13) No Connection
14) No Connection
15) 12v Constant even with key off - Red with White stripe
16) 12v Constant even with key off - Green with Grey stripe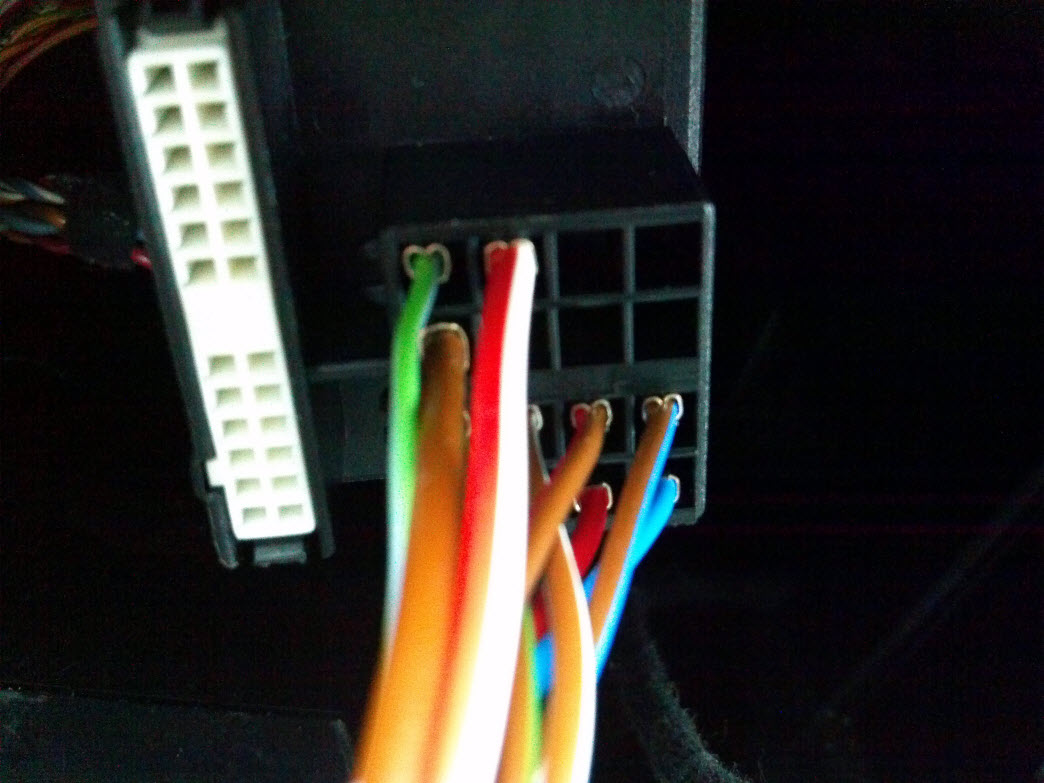 In short, here's what you need to do.
1) Plug the fat red wire with white stripe into Pin 7 of the black connector
2) Plug the thin long red wire into Pin 4 of the black connector - Connect the other end to a switched power source (typically ignition)
3) Move both ends of the Green wire with Grey stripe
4) Connect the Grey wire with the Blue stripe to your dimmer circuit
That's it - power it up, press the >> button to get it to ask you for the security code (on the sticker on top of the RMT200), press the >> button again and you're off.
I'll get some in car pictures tomorrow when I finish the install - I'm putting a 42 Draft Designs
3 hole gauge panel
in the gap (just what I need, more gauges
)
Funny side story in figuring all this out...They claim that this is plug and play in a single DIN MkIII, MkIV and B5 so I asked a co-worker who has a 98 Jetta to see if he'd allow me to pull his radio out, plug the RMT200 in just to see if it would work at all. Sure he says, hands me the keys and off I go thinking this should be quick and easy. I grab my radio lock keys, the RMT200 and sit down in his car. I slide the keys in each side, start to wiggle the radio out about 1/2" or so and reach up and put three fingers in the cassette slot and a thumb below to help pull the unit out of the dash, and the face plate of his radio literally explodes in my hand and there's buttons falling off, plastic breaking everywhere, etc
He took it well, but I felt horrible and owe him a replacement at least, so if anyone knows where I can pick up a 1J0 035 180 single din radio for cheap, I'd appreciate any leads.