Joined

Oct 25, 2009
Location
TDI

Orville - 2003 platinum gray Jetta 5m 220K miles ||| Wilbur (Knurren) - 2003 silver Jetta wagon 5m 230K miles
This is an awesome car!!!
I have not had this much fun driving a car in quite a while.
Well done Aaron and I'm glad I had the opportunity to add to the story.
This is Knurren (Aaron's pics from the listing)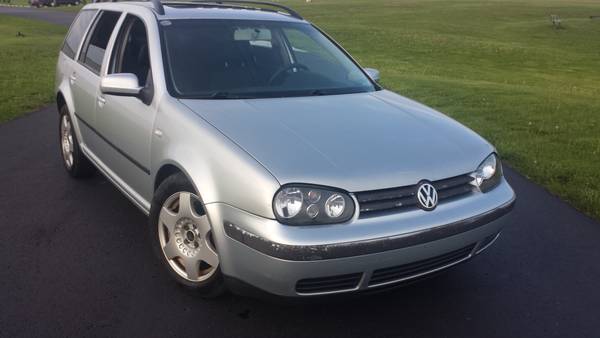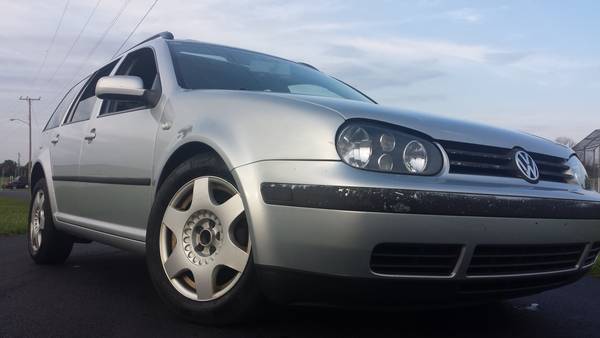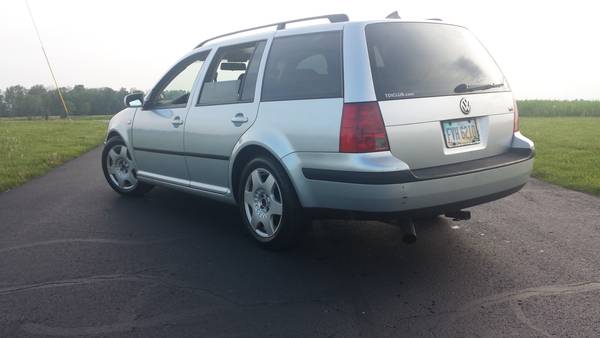 What's Knurren:
The Basics:
2003 Jetta Wagon
WVW Germany built VIN
Reflex SIlver
5 Speed.
230k miles
Black cloth interior, non heated seats.
Exterior:
GTI Nose Swap 10/23/11
Depo Smoked E-Code Headlights w/fogs, LED City Lights, Glass Lenses
Very Dark tinted rear doors, tailgate. (20% Llumar)
Dark tint (35%) on front doors
Factory VW Steel Skidplate
LED turn lights on front fenders
Rear fog light
Aspherical mirrors
Rubstrips are painted with black textured truck bed paint
Shark fin antenna
Class 1 trailer hitch
Engine/Transmission:
Brand new complete T4 .216 Injectors - Installed @ 145K
Malone Stage 3 Custom tune(17.5 PSI with Dynamic idle control, and 1050 RPM permanent idle) (installed on 9/3/11)
Borg Warner VNT17 (Installed 178k miles 9/15/12)
South Bend Stage 3 Clutch with 17# Flywheel - Installed @ 145K
Wavetrac LSD - Installed @ 145K
3.16 Final Drive - Installed @ 145K
Timing belt was changed @ 176k on 9/30/12 full Boraparts Kit (~45k left on this system)
No EGR Cooler
OMI
2.5" Whitbread Catless Downpipe (2/26/11 153k miles) to 3" catback exhaust with resonator and mufflerectomy installed (5/18/11 158k miles)
Frostheater
10mm rebuilt IP installed at 154k miles to solve hard starting issues.
92*C MK2 hotter Thermostat (163,700 miles 11/24/11)
Interior:
2004+ Cupholder center console
Audi Mk1 TT pedals w/Beetle S Dead Pedal
Aluminum trim set w/ in-dash cup holders
Original Double-din Monsoon receiver
Full sized and fully functioning glove box YAY
McNally A pillar pod w/ EGT/Boost gauge (0-30psi) - EGT probe located between the two RRs in Garrett to read properly (2/26/11 153K miles)
Euroswitch
Monster mats front and rear
Armrest with broken (soon to be fixed) lid hinge.
Sunglasses holder where driver OS handle goes
Rear parcel cover
Wheels and Suspension:
16" NB (Monte Carlos?) alloy wheels - Fuzion 205 55 16 tires
Koni FSD shocks in Front
Sachs shocks in rear (5/16/2014 199K miles)
VR6 front springs
Wagon rear springs
Audi TT front CABs
New Calipers, Rotors and Pads (2014 at 200K miles)
Part of the deal was this wondrous bevy of parts:
Work to be done:
CABs, ball joints, TRE's to be replaced shortly
Struts/shocks, springs to be replaced soon
The trunk floor mat has a decent new oil smell coming off of it and it sort of fills the car. This is the same thing that happened to my jetta too. I've had some interesting thoughts about how to fix it and will be trying a few ideas with the jetta
Fix the arm rest
vtex cover piece missing
figure out how to fix this one headlight so it isn't allowing moisture in anymore. I wonder if it jarred lose on the drive home?

As far as maintenance items, Aaron just changed the oil and fuel filters so I should be good for a while. The timing belt kit that is on there now has about 40-45K miles remaining so I've got a bit.
I am trying to find a way to only fill up with B20, whether that means driving a bit further to find a retail location or hooking up a trailer and filling up some drums with B100 to mix or B20. As far as I know the closest biodiesel retail location to me is 130 or so miles inland around the Raleigh area. I'll make the drive, but I'm coming back like a tanker convoy in Mad Max, lol.
I'm happy that I was able to keep Knurren in the tdiclub family and hope I can keep this beautiful and fun car up to snuff for a long time.
My 6 year old daughter saw it for the first time yesterday and told me right away "Daddy, when I'm a bigger girl and can drive, I want that car" - so I've got my orders.
Last edited: