I have been fighting a problem with the daughter's wagon's headlights dropping out on her. Driver's side is tending to be more consistently problematic.
I'd replaced the entire headlight assemblies with retrofitted HID projectors. No problems with a bad connection prior to this swap. Connectors were fine.
I added a wire for the fogs. Had to remove the wire retainer clip, but nothing here seemed to be an issue. I popped off the connectors the other day and found this: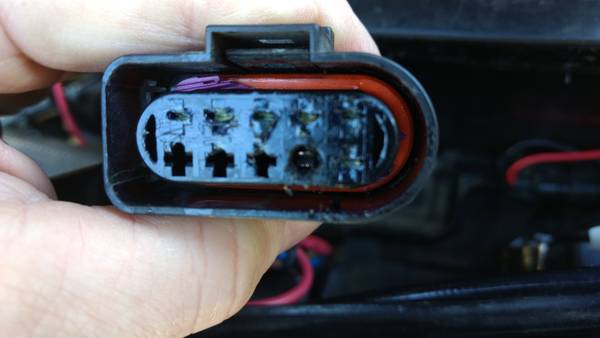 NOTE: Previously I'd sprayed contact cleaner and then dabbed the wire ends with dialectic grease.
Obvious is the over-heated seat there. If you look closer you can see that the retainer clip is broken (same occurred with the other side).
I got rid of the retainer clip (pieces) and was able to get a firm seat/click on the connection. Obviously, I should have clips in here. I was going to pull ones out of one of my Golfs but was worried that I'd just end up breaking them as well. Better to try and figure out why these things are breaking, why I am unable to get a full/positive connection between the socket and plug.
In a side discussion with another forum member it was mentioned that the seal might be swollen and that is the source of the problem. That sounds like it might be it, but it wasn't an issue/problem with the original headlight assemblies (sockets); and, it's not clear how it would impede such that the retainer clips would end up breaking. Without the retainer clips the seals don't prevent a positive connection.
I suspect there may be an issue with the headlight assemblies, but I can't quite say/prove what it could be. Thought I'd try and rule out the car side of things and whether it was something that I did before I engage the vendor.
Last edited: