Loose Nut Behind the Wheel Vendor
Joined

Apr 23, 2006
Location
TDI

2014 Passat SE DSG, 2005 Passat wagon, 2004 Touareg V10.
Last May, I did a cross country road trip and stopped by a number of TDIer's houses and family in Michigan. Did a fair bit of work along the way on people's cars to pay for it. One of the stops was to my buddies VeeDubTDI and compu_85's place in Virginia to take a look at the V10 Touareg. They were complaining about a bad vibration under load and had already replaced the driveshaft and even thought at one point maybe it was torque converter shudder and did a fluid service and valve body on it in an attempt to fix the problem to no avail.
I suggested I had been seeing a number of PDs at their age with bad injector seals causing issues now and then. Franko6 relayed to compu_85 that worn cams have been known to do that on V10s as well. It is a 2V/cylinder PD after all...
As usual, Frank was right: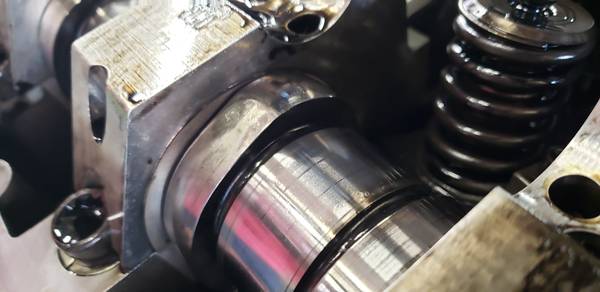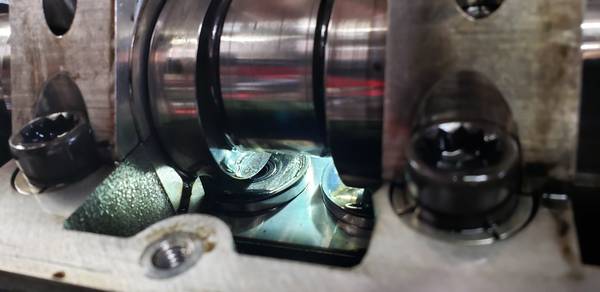 Last fall, they made me an offer I had a hard time refusing to take the Touareg off their hands. So, now it's my expensive problem.
I ordered a set of Colt cams from a company in Canada last fall and FedEx promptly lost them somewhere in New York. I fought it out with them for awhile to get a claim paid, and have so far received a check for only 10% of what I actually paid for the cams... So, I think a trip to small claims will eventually happen, in the meantime, I got too impatient of waiting for that to resolve and got another set of cams on the way.
So, cams have now shown up, and I started to amass the rest of the parts required to do the job and had purchased the absolutely necessary special tools as well. Time to drop the drivetrain: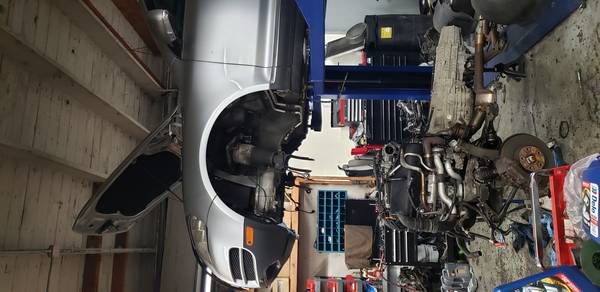 Pardon the disaster zone that is my shop bay at the moment. Honestly can't remember my last day off not at the shop.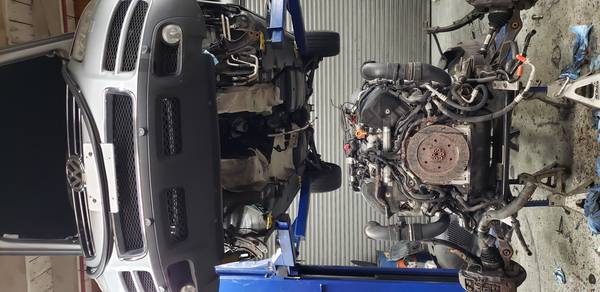 With that done, time for disassembly: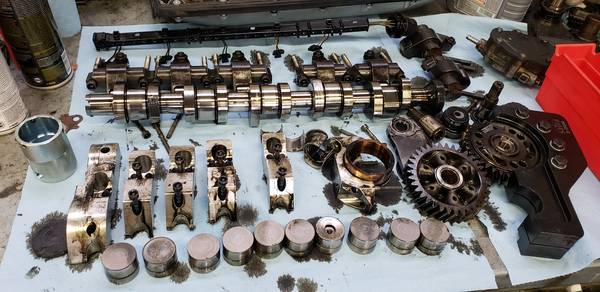 Bank 2 (driver side bank) was definitely far worse. Surprisingly bank 1 is almost completely unworn. Go figure.
Slowly but surely I'm getting it back together, ordering some more parts along the way and finding my crank lock tool was more meant for the Euro 2.5L 5 cylinder than the V10. Came in a kit that had cam locks for both engines (V10 bank 1 uses the same cam lock as the 5 cylinder, bank 2 uses a different lock).
Also while I'm in there, might as well do injector seals too: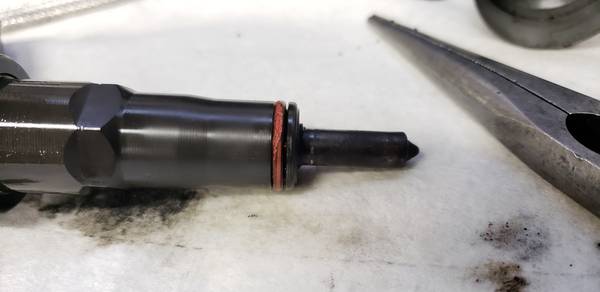 Just as it was being loaded on the hauler to come to California, compu noted that it suddenly went into limp mode and stored a turbo related code. When I received it, the code was for turbo control module "defective."
Oh great...
Well, I did replace a pair of turbos on a V10 last year for a customer and noticed that even on his West Coast Touareg (2006--two years newer than this one) one of the turbo's had a rusted external linkage and eventually it popped the E clip off altogether and came disconnected.
The Touareg I just had, both modules were still connected to the linkage. I decided to remove the linkage from the module while everything was still in the truck and found I couldn't move the VNT mechanism easily at all. Having noticed that the turbo control module defective code returned every time I keyed the engine on, I decided to try an experiment. With the VNT linkage between lever and control module unhooked from the control module side (only side you can really reach with the engine still installed) I cleared the codes, keyed it on and off a couple times and noted every time you key it on, the control modules cycle min to max. And if one of them can't go through its full range of motion, it sets the "control module defective" code. But with the VNT linkage completely disconnected from the control module and the module able to go through its full range of motion, the code didn't come back.
So, now with the engine out of the vehicle and I have the ability to better see the linkage and mess with it, it turns out the way it had corroded it wasn't allowing full movement from an external issue, i.e. not sticking vanes inside the turbo.
So, I took the arm off entirely, used one of those small, relatively soft grinding stones in a Dremel kit to clean the corrosion on the inside of the arms, tore a thin strip of sand paper and used it to clear the corrosion off the arms on the control module and VNT mechanism, used some high temp synthetic caliper grease on the joints and reassembled. Slathered some more on the outside too in hopes a future recurrence of this issue is staved off.
Having seen this issue on two V10s now from opposite sides of the country, I'm beginning to think the "fragile turbos" rumor about the V10s is mostly bullcrap. I think if whoever services these trucks takes the chance everytime they're under one of these to try and dab a little grease around these joints, it could stave off the corrosion on the VNT linkage that eventually causes various codes and limp mode. At least that's my theory. So, instead of replacing turbos now, despite the job being massive to remove and reinstall one of these monsters, I'm tempted to see just how long I can get the stock turbos to last on one of these with just that little bit of preventative maintenance.
Anyway, back to it. I've got plenty of work to do after the 'Reg is back moving under its own power. But I can't wait until it's done, I've driven it, got readiness monitors to set and then get it titled and registered in my name finally. Really neat truck.
Last edited: