Joined

Jan 19, 2004
Location
TDI

2001 Jetta TDI GLS silver
Hi,
The coolant GP's are a mystery, they only seem to come on when it is freezing cold, below 20F in my past experience.
I decided to write up the basics on how I was able to manually control the coolant GPs (only on manual trans mk4) after being asked by a member. Here is a crude photo writeup of how it works for those electrically handy, it is not a hard procedure. If you aren't sure of how to set this up, please don't try it. I'm surprised no tuners have found how to shift the coolant GP's to come on at 40F for example. It's supposedly based on coolant temp AND IAT temp. Confusing right?!
I have this setup on my car for about a year and a half, IIRC.
Summary:
-Relay 100 does 2 of the 3 GPs, 53 does the other. I measured about 15-20 amps PER coolant GP in the past. So you can figure 200-250 watts approx PER coolant GP.
They are fed 12v steady when Ignition is on. However, the ecu controls them by switching GND to the other side of the coil.
I recommend not putting both relays on, I think the load may be too much.
(I ended up switching the 3rd GP on/off with a NC relay energized by tapping off the GP harness- so if the GPs are on, the 3rd coolant GP will not have power.)
The optional goodies:
-You can tap off the output pin to have an indicator light inside the car. Be sure to run a 1 or 1/2 amp fuse inline.
-You can wire up a simple thermostat (put it somewhere to sense heat of engine) in series with the switch to GND in order to automatically switch off the coolant GP's when warmed up.
An idea that I never got to play with:
Use an extra defroster switch (that has the timer inside it) to turn the coolant GP's on, instead of rely on external thermostat switch.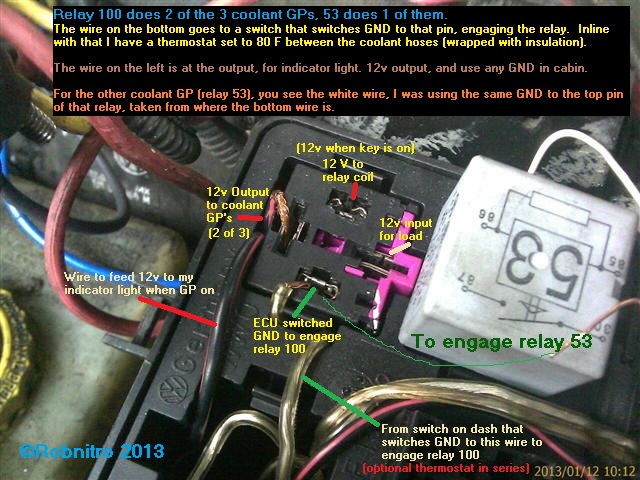 Last edited: