Joined

Oct 7, 2007
Location
TDI

2004 Jetta TDI Sport Edition, Grey with 270,000 KM. 1997 Jetta TDI, 340,000 KM driven by my dad
Hey guys,
I have a friend who is part of the Toronto Subaru Club, and they had a GTG last Saturday at Budds Subaru in Oakville (
http://www.toronto-subaru-club.com/forums/showthread.php?t=117739)
. I went with him because he wanted to inquire about getting tuned and wanted my opinion.
One of the highlights of the event was one of their members, ebonysti (Fraser), talking about suspensions. He had his STI up on the lift and was showing off their brand new alignment machine. He also gave a presentation about all the different adjustments that can be done via an alignment and how they will affect the ride/handling. They don't only align Subaru's though, and I talked to Fraser about offering his services to TDIClub or anyone else. I was really impressed by the wealth of knowledge he had, and will definitely be taking my car there once I get certain aspects of my suspension in better shape.
Fraser works there part time on wednesdays from 5-8pm. They charge typical alignment rates, but if you know what you want, he'll work with you to make it happen - he's been doing this kinda stuff for over 20 years. If you're pretty inexperienced in the topic (like me), then he'll make suggestions based on how you want it to feel.
If any of you are interested, the best way to setup an appointment is to call or e-mail the service manager, and tell him you want to see Fraser on a wednesday:
Kyle Rutty
Service Manager
krutty@buddssubaru.com
905-845-2800 or 289-291-8110
Or his tag is BuddsService on TSC, if you would prefer to make an account there and PM. Here's a table that Fraser handed out talking about all the different suspension adjustments and how they affect oversteer/understeer: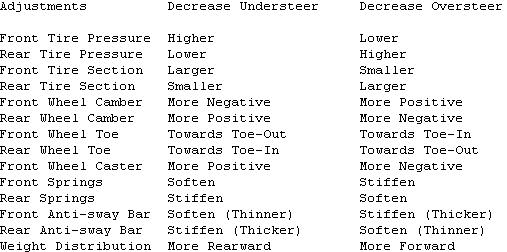 If anyone uses his services, please post here and let us know how it goes. I think this might be one of the best local options for getting a good alignment done while at the same time improving your car's handling.
Last edited: