Joined

Jul 12, 2004
Location
TDI

2004 Jetta that I fill by myself
Yes, I have looked through the no start thread...
Details: Bought 2001 Jetta, automatic, dead. Car was running and it died. They hauled it to a shop where they put a pump and timing belt on and it hasn't started since. Checked base timing and the cam was off just a bit and the pump was off about 150 degrees. Reset everything.
Glow plug light comes on. Immobilizer light is flashing, it has a start blocked by immobilizer and it originally had a P1609 - crash shut down - and it cleared.
It will fire on ether.
Cam looks great.
About the immobilizer... It should allow it to fire, but it won't even do that, though I have had at least one cylinder pop on two different tries. I have connected the pos and neg cables together, I have ran an autoscan and tried starting when clearing the codes and I have left the key on (though maybe not long enough). I looked at fault codes in the Immobilizer group but it said
"No faults found
Or DTCs not supported by controller
Or communication error occured."
This is an Immobilizer II car so I am thinking that this is normal and the place to look is the instrument group. Looking in the instrument group, I found this:
20 VW Z7 Z0 A3
21 27 84 98 N/A
22 0 1 1 2
23 1 0 1 N/A
I don't know if this means anything, but someone had a suggestion to look at that.
The car sat for quite awhile and the battery was dead so I am assuming that is the cause of the Immobilzer.
Compression may be a bit low (<20 PSI) on one cylinder compared to the others cold, but it should still run until the immobilizer shuts it down.
There hasn't been much said here about the P1609. Just two people in three threads and they were inconclusive so this one is new to me.
I built a pressure bleeder to bleed the pump and even put pressure to it when starting.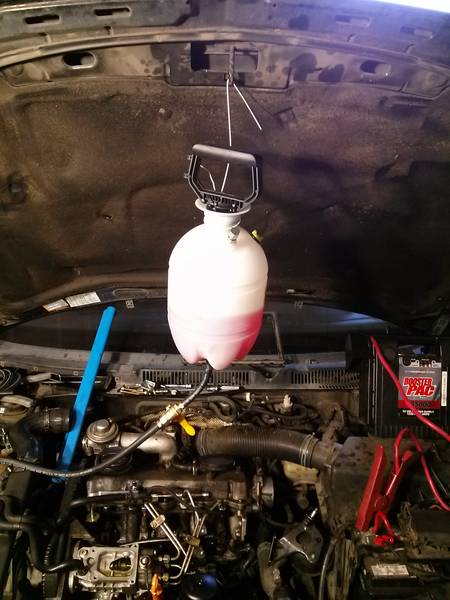 I am questioning the new pump so I popped the top and as I roll it to TDC, the cam plate is all the way retracted. I popped the top off of my dead pump and it does the same thing. Here is my question: Is this correct? Should the cam plate be at (or very near) BDC when the pin for the pump is at TDC? What I am wondering is since they bolo'ed the pump timing, did they loosen the nut on the pump and get the pump out of time?
Or is this pump just junk? I noticed that it has no tamper-evident paint on it and that scares me. But haven't the Prothe pumps at least run for a little bit?
I am contemplating pulling the pump off of the Beetle and trying it.
I checked group 1 with VCDS and injection quantity was up to 50 when trying to start, but I don't really know what it should be when it's trying to start.
What am I missing? I may be missing something obvious, so don't be shy asking. I may have checked it already, but forgot to mention it.
The ASV is open and the intake isn't clogged shut.