Joined

Sep 6, 2017
Location
TDI

'03 Jetta Wagon TDI 5-speed manual, '03 Jetta Wagon TDI auto
I had the Moog VR6/Wagon springs combined with Bilstein TC shocks on my '02 Jetta TDI Sedan, as well as my wife's '02 Beetle TDI and while it prevented us from dragging oil pans and handles a bit better than stock, I was never entirely impressed with the cars handling (And the Beetle rear end sits way too high with moog wagon rear springs). I've seen posts in the "Beef on a Budget" thread claiming the VR6 front moog springs are taller, but actually softer than factory front springs, which feels correct to me.
This summer I purchased an '03 Jetta Wagon TDI for a steal (with a leaking injection pump head seal, fixed with the $9 dieselgeek kit
). I decided I wanted to keep this car for a while and that I'd make it a great handling car.
Project goals: Sporty handling without being harsh. Close to stock height with the option to raise the vehicle for winter, towing, or camping road trips with a loaded down cargo area.
Parts selection: There are lots of nice coilovers and lowering spring kits for the mk4 cars, but pretty much all of them lower the car with no ability to raise it back up past stock height. Living in the mountains of Colorado this just isn't an option for me. The one and only option I found was the Ground Control coilover sleeve kit that has the option of custom spring heights and rates, and I could combine these with the shock absorbers of my choosing to keep the stock travel.
Springs: I wasn't sure what height or rate springs I should order. I spoke on the phone with the guys at GC (Thanks Jay!) who were very helpful, but I could tell they don't get too many calls from people looking for the ability to lift the car with their kits. For spring rates the best information came from IndigoBlueWagon on this forum. Here is a snippet from one of his posts:
Shine springs are certainly firmer than stock, but not super firm by any means. The springs that come with Koni Coilovers for the A4 are rated at 350F/180R according to Koni, compared to 250/180 for Shine. They are not at all unpleasant on a daily driver, IMO.

If I wanted a really good handling daily driver I'd probably go with coilovers with 400 or 450F/250R. I'd use camber plates with spherical bearings in place of the mounts and get about 1-1.5 degrees negative camber. And stick with stock ride height, or close to it in front, and get the car lower in the rear and closer to level, like Shine does. This really does help the car feel more planted and rotate better.

This setup would probably work with no bars, or a rear bar only. If you wanted to go with no bars (which is how I have my Golf set up now), you might bump the rear springs to 300 or 350.
I wasn't sure I wanted rates quite that high for a daily driver, so I told Jay at GC I was thinking 300F/250R and he immediately told me "oh no no, you'll be riding on the bump stops the whole time, you want at least 400# up front." So I ended up going 425F/325R initially. For spring height he suggested 7" front and 8" rear. I thought 8" out back was going to be too short, but wasn't sure how much height the coilover perches were going to add to the spring. I settled on 7" front and 9" rear initially.
After installing these on the car I found 7" up front to be perfect. There is about 3" of height adjustment with the front sleeves, and in the middle it sits maybe 1/2" below stock height. Because of the 425# front springs it does not dive and I haven't had any issues dragging my skid plate.
The rear adjustable spring perch only allows about 1.5" of height adjustment
. This means that for the summer I want them all the way down, and I'll get a 1.5" height boost for the winter/towing/etc. With 9" springs the rear sat too low for me. Right at the top of the 25.7" tires I have on. I have a Curt hitch that I scraped a couple times getting out of parking garages and on a speed bump. Luckily with the 2.5" ID springs it's really easy to swap them out. I found some used Hyperco springs for $20 a pop on ebay that are 10" tall and 350#. The 325# were not at all harsh to me, and I don't want a lot of sag when the wagon is loaded up. The car sits nice and level now with about 1" of wheel well gap out back. 350# does not feel any stiffer than 325#.
If you are looking for more BEEF and want to ride high all the time I'd suggest 8~9" front springs and 11~12" rear springs. The spring rates will also effect height, so if you go softer, or have a Jetta Sedan/Golf/Beetle adjust spring height accordingly. For a Golf or Beetle with their short rear ends I think 250# is probably more appropriate (my unscientific guess based on what moog wagon springs did to my wife's beetle).
Shocks: I initially wanted Koni Reds because many people said they were very comfortable, but after reading more it seems they're made for factory-ish spring rates, maybe 200 lb/in or so. Because I was going much higher than stock rates Koni Yellows (Sports) made sense. These come in factory heights including the taller wagon specific rear shocks. I was worried about them being too stiff, but if your shocks don't have the damping to control your spring rates you can end up with a bouncy ride.
Bump Stops: Jay at GC recommended their "Super Shorty" soft bump stops for the front, so I went with those. For the rears I cut off the smallest 2 lobes, and trimmed them a bit to get the dust covers back on. My thinking is that I shouldn't be riding on the bump stops as much with the stiffer springs, but still want some protection from bad hits.

Other Items: I wanted to tighten up the front end as much as possible without being harsh. I got R32/TT solid rubber rear control arm bushings (Lemforder), polyurethane front control arm bushings (BFI sells the front bushings only for $15). Polyurethane steering rack bushing (Nolathane). I also installed new ball joints and inner/outer tie rods (TRW) while the control arms were out. Very easy to remove/install the inner tie rods with no special tool (just a huge crescent wrench) when the control arms are out of the way. I also got fresh rear shock mounts (Sachs). My research showed me there are two different types of rear shock mounts, 1J0 513 353D "sport" version, and softer 1J0 513 353G "comfort" version. The softer "G" versions are obsolete and have been replaced with the newer version, so you shouldn't have to worry about this too much, just make sure there is a D in the part number or cross reference number. ECS sells some even harder HD rear shock mounts, but there seemed to be a lot of bad reviews on the durability. Maybe they've sorted that out now, but I decided not to go that route.
Camber plates: I didn't plan on getting the GC camber plates, but found a set on ebay for $150 and jumped on it. The GC camber plates have 2 different upper spring perches: one set for factory springs, and another set for the 2.5" ID coilover springs. I had to get the 2.5" ID perches from GC because mine came with the factory diameter spring perches. With their coilover kit, GC normally includes 2.5" ID spring perches that work with the factory rubber strut mounts, so just be sure you specify what your setup will be when ordering.
Tires: Tires are a part of handling and harshness/comfort. I wanted to find a balance between handling, ride comfort, and also choose a size that was readily available. The factory 195/65R15 (25" tall, 5" sidewall) tires are, in my opinion, too small. In the winter I run 205/70R15 (26.3" tall, 5.6" sidewall) snow tires that are too tall for the factory suspension and will cause rubbing. For summer driving I wanted something in between and I also wanted to use 16" or 17" rims, mostly for looks, hehe. I think 17's look best on mk4's, but sidewall height is shorter in the available common sizes. I ended up with a set of 16x7 +40 rims (Drag DR31). My top tire choices were 215/55R16 (25.3" tall, 4.7" sidewall) and 225/55R16 (25.7" tall, 4.9" sidewall). I got a pair of used 225/55R16's on craigslist and immediately thought they were way too wide. I currently have them on the rear of the car, and they do fit there. I found a brand new pair of 215/55R16 Conti DWS 06's on craigslist for a great price. The 215/55R16's are perfect. Not too wide, not too tall, not too heavy, and it's a common size for high performance all seasons. on my 16x7 +40 offset wheels they fit on the front with no rubbing at stock height, though I can barely fit a finger between the shock and the sidewall, so I wouldn't use tire chains with them... That's what the 205/70R15 winter tires are for though
.
Results/Impressions: Car handles better than I could have imagined. I would not call it harsh at all, though I do feel and hear more road imperfections. Speed bumps and big square edge ledge type things need to be taken at a slower speed than normal, but bad roads filled with patches and cracks are barely noticeable. The faster you go, the smoother road imperfections feel
. My friend told me that my setup would probably hurt his back, but I don't really feel any bumps in my seat/back, it's more feeling bumps through the steering wheel and hearing the bumps through the dash vibrating. My wife doesn't really notice the change unless I'm driving fast around corners and the lateral G's make her "tummy woozy" hehe. I don't really feel/hear much from the rear of the car, so I think most of the NVH I feel is from the camber plates with their solid bushings, and possibly the harder control arm bushings. I don't have any extra negative camber dialed in yet (just the factory -0.9*) as I wanted to get a feel for the baseline settings. I don't think the camber plates are needed for the street, but when I really push it I can feel the front starting to roll over a bit much, so I'm looking forward to setting it up around -1.5*~-1.8* and seeing what difference that makes. If you're more concerned with comfort vs all out speed just keep the rubber strut mounts.
Winter Impressions: 7" front spring is a little short. I'd like to get about 1/2" more lift up front, so I may swap them out for some 8" springs. The front perches have enough adjustment to keep my summer ride height and increase my winter ride height with 8" springs. Spring rates are a bit stiff for rough winter roads, but fun! It over steers, but very subtly and predictably. No need for a rear roll bar with these rates. I haven't spun out or anything, but I have gotten a little sideways on accident. Now that I'm used to it I get a little sideways on purpose
I'm running the same tire pressure front and rear, and will experiment dropping the rear pressure to see if a bit more traction can be found and to bring it back towards neutral handling... I might like the over steer better though!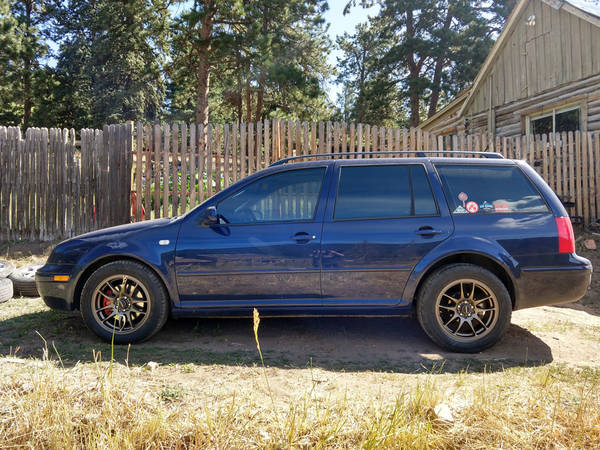 After installing the front 7" springs with spring perches in the middle of the adjustment range. Factory rear suspension. (car parked on uneven ground).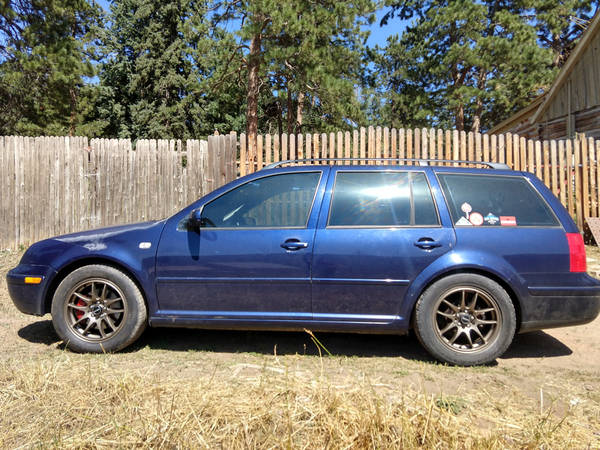 After installing rear 9" springs with perches as low as possible. Shadow makes it hard to tell, but wheel arch is even with top of tire. (car parked on uneven ground).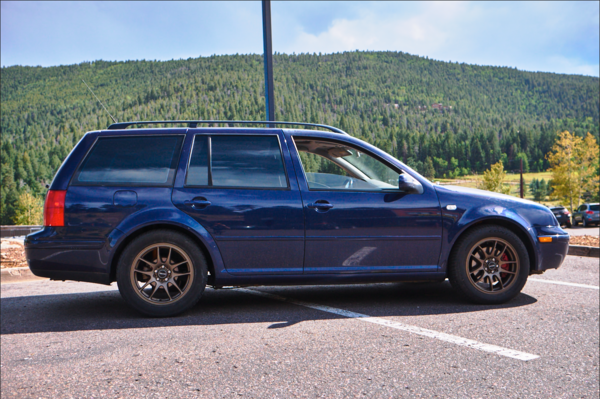 After installing 10" rear springs with perches as low as possible. Car looks level to me. (on even ground). I can raise the front and rear about 1.5" up from this point.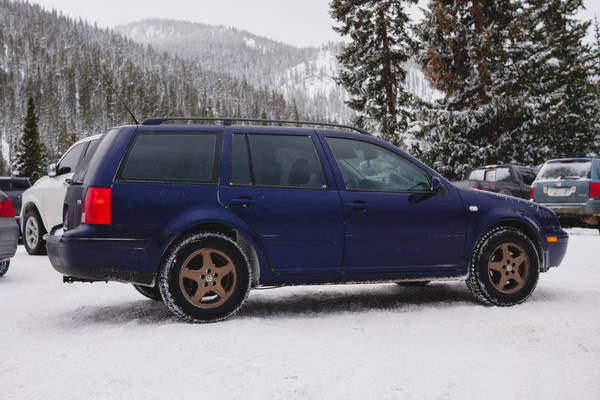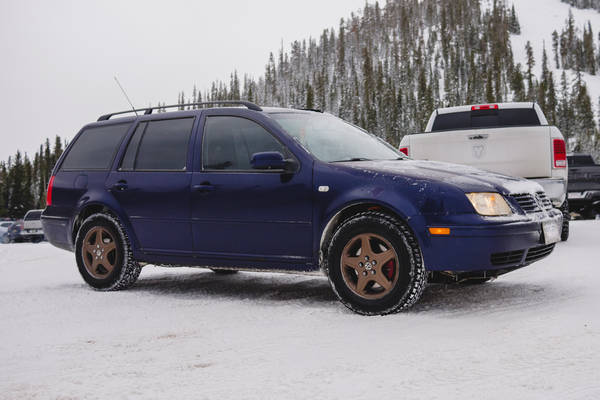 Winter Mode - 205/70R15 with perches all the way up.
​
Last edited: