Joined

Mar 14, 2003
Location
TDI

'96 Passat Sedan, Black
I installed a full desktop PC into my car last year, but never posted about it. Only recently I cleaned up some of the setup.
The main objective was to have a GPS onboard w/ audio directions, mp3 playback, VAG-COM. DVD movie playback is also possible, but I do not use it for DVD's... (doesn't look good if/when stopped by the police
)
The secondary objective was to be able to remove the VGA Screen and Keyboard easily to prevent theft.
Obviously from the pictures it's no where "done". A number of things need to be changed, but for the most part the system is functional.
The computer & hard drive has survived a 3+ hour drive in mid-summer heat, and many speed bumps at a fairly decent speed. (speed bump test was tested first thing... if the hard drive was going to crap on me, I wanted to fail asap vs. during a road trip, winamp mp3's were playing to ensure disk was spinning while I performed this "road test")
1) The motherboard, CPU and hard disk get hot. A better cooling solution needs to be implimented
2) The hard disk needs to be secured. (maybe upgrade to laptop hard drive) Will not upgrade to flash memory drive(s), limited flash cycles/lifetime and too expensive at this time.
3) Various other upgrades: Add USB Wireless G, move DVD-ROM to the front dash area, change audio to play through external speakers vs. currently playing through car stereo, Add Rearview Camera for reverse (?)
Overall View. Mini 88 Key Keyboard with Trackball built in. 7" VGA Screen (not that cheap TFT stuff)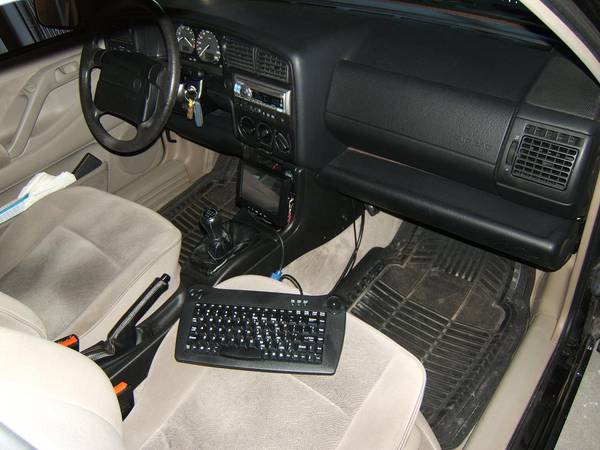 Mid console control.
Top Switch - main power switch, turns on the inverter on/off, huge red bulb indicated on/off.
Middle push button - PC power on/off, green LED indicates power on
Bottom push button - PC reset (when Windows XP decides to crap on me)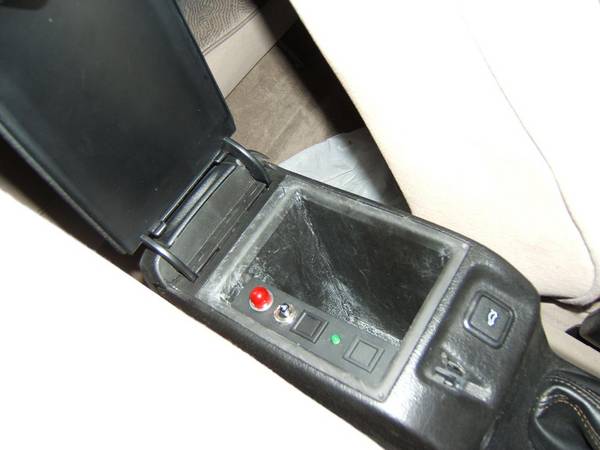 Vag-com connected. OBD2 interface in the trunk connected to the motherboard. (I know, not a good idea to connect the interface directly to the motherboard....)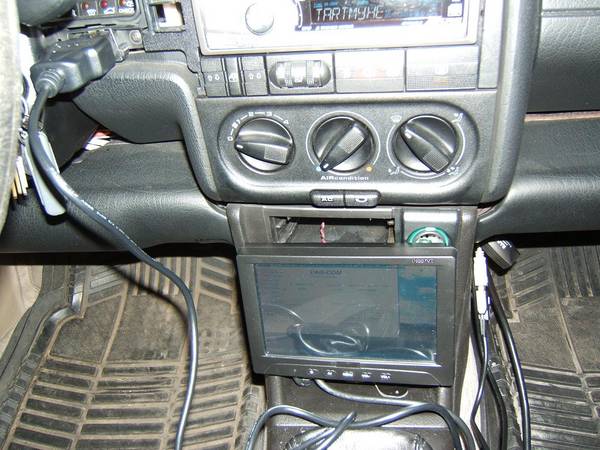 GPS seen from outside (Garmin 18 USB). The reception works fine even through the defrost lines. (some people have reported problems with GPS reception under windows with defrost lines....)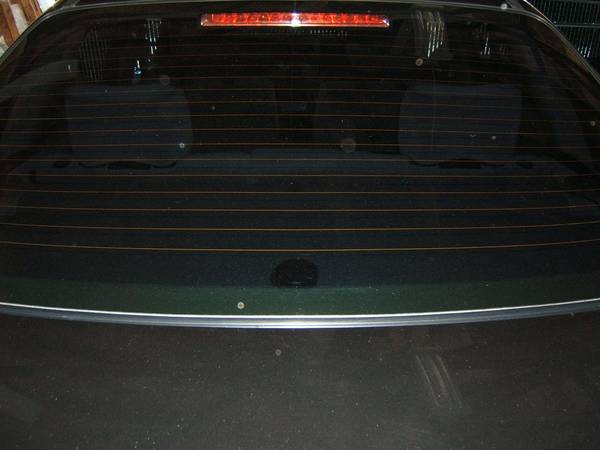 Access to Serial port and one of the USB ports from front dash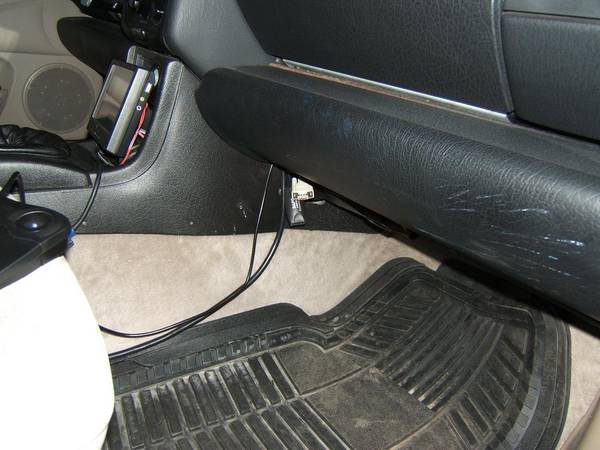 Hard Drive mounted vertically to help prevent disk damage.
A7V-400MX Asus motherboard, built-in VGA, Audio, Ethernet 10/100, 4 USB, and 1 Serial
AMD CPU 2200+ Ahtlon XP
512MB DDR Ram
7200 RPM Desktop Hard drive
DVD-ROM
Mini-ATX power supply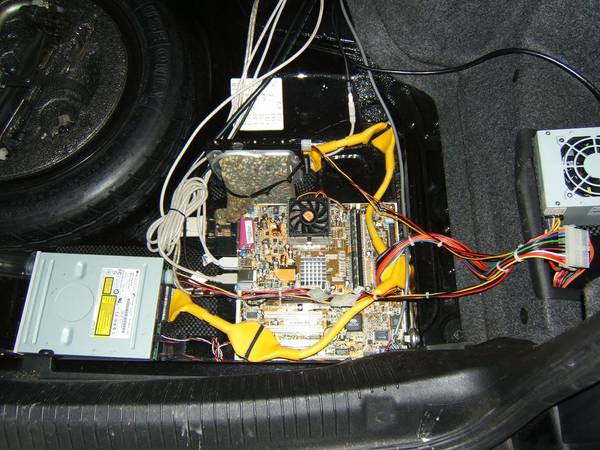 Trunk View - small vent hole not visible in the picture. Power supply brought up top lessen the heat load near the motherboard/cpu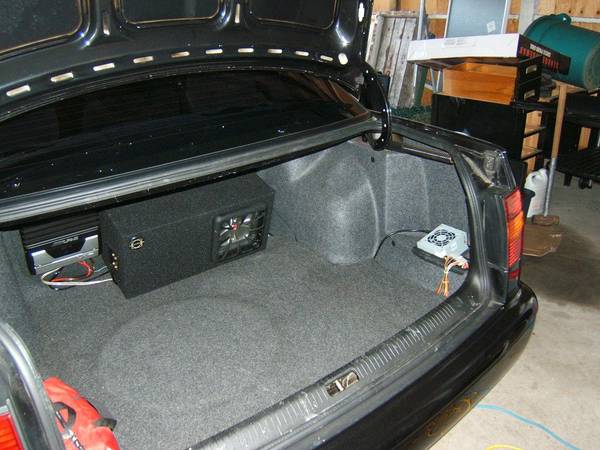 Power for the Motherboard, Inverter taps power from the Audio Amp fuse/power splitter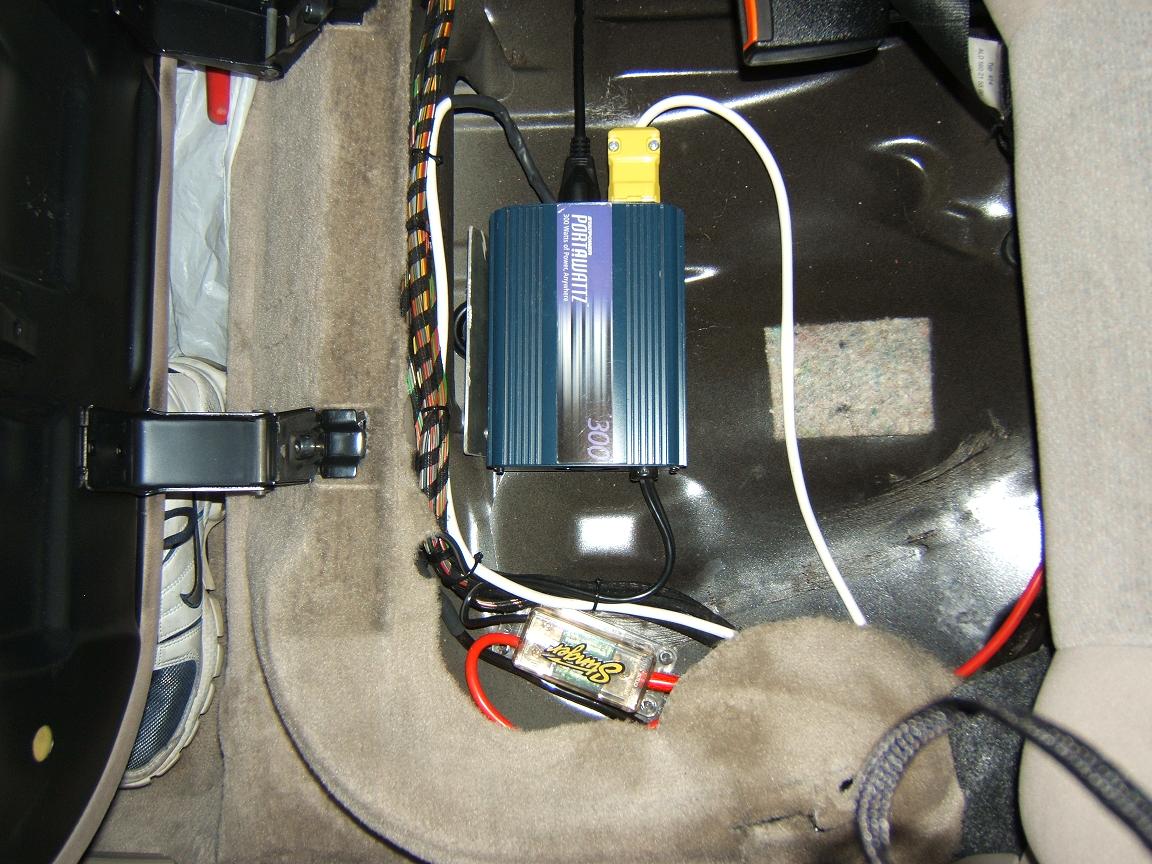 Overall system with VGA monitor and Keyboard put away.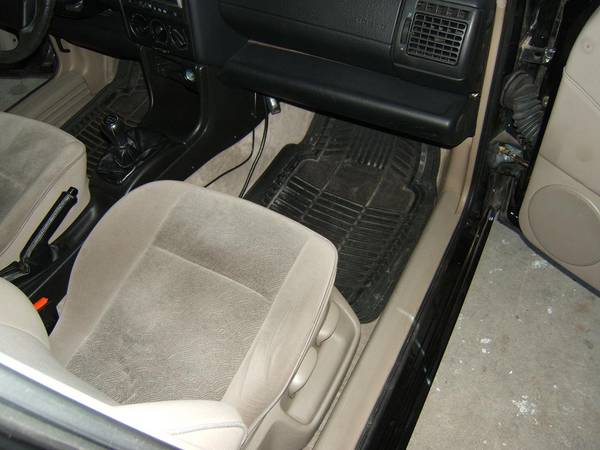 Last edited: