Joined

Nov 14, 2005
Location
TDI

Audi/TDI x 2
I have been holding off on starting this thread for a long time now (approx 6 months), mainly because it has been a very long drawn out process on trying to specify the build and become comfortable with the direction it was going. In addition to that, it has also taken a while to become confident that it was actually going to come together, as the last thing I wanted to do was start a big thread with a tall order and not finish. This build is based on TDImeisters "Recipe for the Insane.." thread, and Dave has done countless simulations on his software to refine the set-up and I am very grateful to be working with such brilliant Engineer that is so passionate about TDI's.
There was a lot of discussion related to budget in that thread, and yes, even by scrapping pennies, this is a very expensive build.
Please be patient with the pace of the thread and build. There are a lot of hold ups and such, plus my work is VERY demanding at this point. I have spent an average of 15-25hrs a week on this project for the last 4+ months and this demand will probably get worse, rather than better, and I will choose project work, prior to thread update.
I am also hoping that the club members will be able to offer some additional advice, help, and resources on certain aspects of the build, as I would not define myself as an experienced TDI engine builder.
Project Description:
Engine Design Simulations: GT-Suit/TDIMeister
2009 VW 2.0 TDI Common Rail Engine (CBEA) - Bored out to 2.1litre
Heavily ported 16V CR Head - Porting and valve work to be fixed from previous work - new vendor to be selected
Ferrea Super Alloy Valves and Ferea Springs, Custom Retainers(?)
Custom Cams - by Geoff @Colt Cams - this is a maximized lift and duration based on the OEM cam set. The future holds a billet cam design by TDImeister with larger lift
OEM 83mm Pistons - CR Mods & Valve Reliefs, Ceramic Coat by Calico
TI Wrist Pins - Scitex Trick Titanium
Connecting Rods - Supplied by Geir Rosten - Custom Spec
Crank Mods - Custom bearing grind - details to come later, BS Drive gear removed, no other mods
2 Stage VNT Turbo System (GTA3776VK & GTB2XXX Hybrid) - both will be using electronic actuator systems
VNT Turbo Controller - custom - Design by TDIMeister/myself
Exhaust & Intake system - custom
Inter-stage Cooler and Post Cooler - custom built
Dry Sump Oil System - Parts Purchased from Issam Abbed (INA Engineering), System Design by myself
Ladder Style Girdle - 1"plate milled to fit block and doweld to main caps (TDIMeister/TDIsyncro design)
Injector Nozzles - Custom
CP3 Pump (high pressure pump) - Duramx Pump
Crank Position Target - Custom
I have probably missed some stuff, but will update as I go
This is a pic of the engine when VWMike had picked it up for me from the wreckers yard in Washington. I had been watching car-part.com for a few months and grabbed this as soon as it showed up. I got it basically for the cost of the balance shaft assembly plus a bit more. The BS assembly (gear driven) will be going into my other Audi/BHW conversion.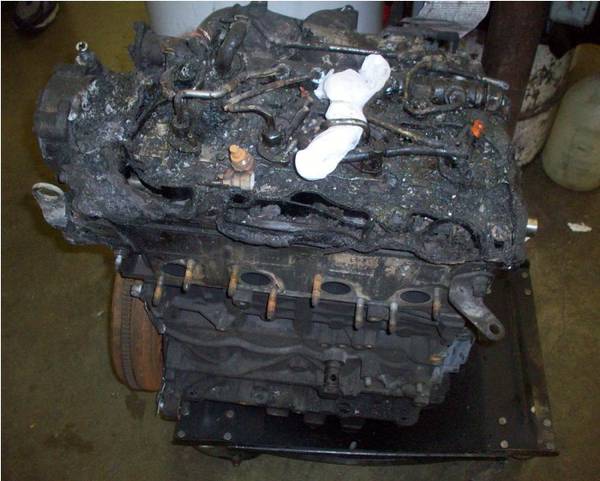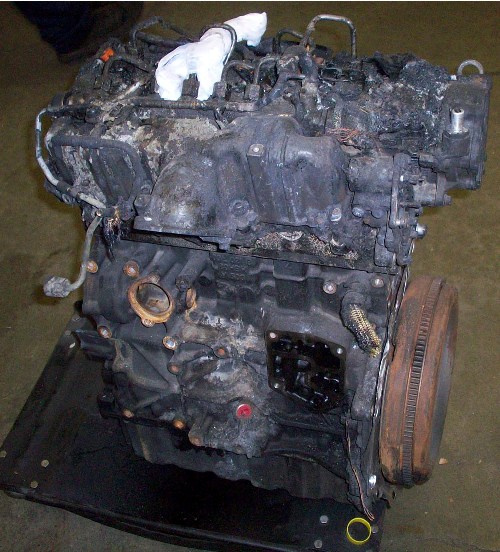 The CBEA block and crank face is pretty much identical to any other PD. I was initially a bit concerned about this when I was searching, but after some extensive cross checking on ETKA, my fears were more or less alleviated.

Chassis Specification:
Pearl Black 2001 Audi A4Q
slightly lightened interior
01E 6 Speed TDI Transmission
Several Sets of Rubber and Rims for different events
some other very cool stuff, that will come forward as project advances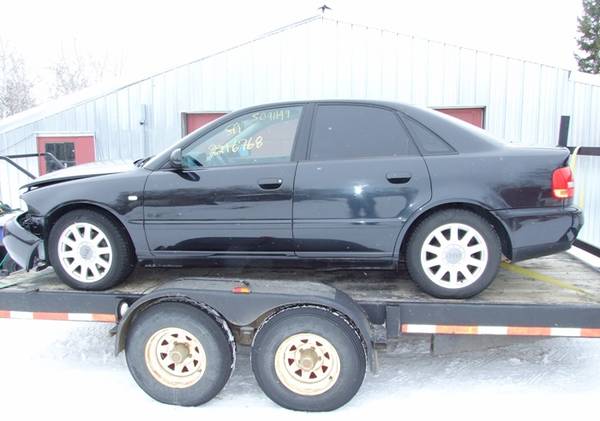 Not all the detailed Information on this build will be shared until after the build is complete and there are some specific performance goals met both on the dyno and on the track. Once these have been established, remaining detailed information will be filled in on the thread, with exception to the injector/ECU control strategy (which will remain confidential to the tuners for their hard pro-bono work), and the turbo controller, which will be intellectual property of TDimeister and myself.
Resource List:
Recipe for Insane Engine Build
http://forums.tdiclub.com/showthread.php?t=254284
Piston Bowl Shaping
http://forums.tdiclub.com/showthread.php?t=252336
Compound Turbo Sizing Math
http://forums.tdiclub.com/showthread.php?t=208045
Valve Train - Spring Selection Etc
http://forums.tdiclub.com/showthread.php?p=2039446#post2039446
Special Thanks to Scott Dewitt, for hours of good conversation, guidance, sourcing, and super sweet "at cost" deals for my parts requirements. There will be more details on that part 4-5 months from now, for now its mum! lol

Other Vendors:
I am going to get all the supporting vendors plugs right out front here, and update as the project evolves. I will keep the rest of the thread clean so it does not become tacky.
Note - Vendors will be added to the list as there part of the project matures.
Rods Custom Designed to our Specs and Donated by Geir Rosten
Tuner - Michael Lane (VWMikel , TD Tunning)

Special Support Services (including ECU, harness, sensor package, and other cutting edge knowledge) - TurboJohan

Cam Shaft Work by Geoff @ Colt Cams

Connecting rods by Geir @ Rosten Performance

Last edited by a moderator: