Joined

Apr 29, 2007
Location
TDI

04 Jetta TDI, 09' JSW TDI, 09' BMW 335d
CAUTION
...
THERES MORE THAN 75 PICS ON THIS PAGE, DAIL-UP BE PREPARRED.
I have finally started my build thread...
Be patient with me as there is a lot of pics and info to put up. I am going to try to keep most of the pics on the first page, for this part of the build. I will still have some mods to finish though out this year. So stay tuned for more craziness.
Grab some popcorn and lube, see what happens.
Dyno sheet #1 at post 75
Thank you O.C.
------------------------------------------------------------------------------------------------------------------------
Project starts with a 2004 Jetta TDI I have owned since 10/04. I bought it with 3500 miles on the clock. I had intended this to be my daily driver.
Well that was a while ago. Once I started changing things, it only took a year before I started this project. I had started buying bolt-on products, but I was not impressed with fit, quality, and performance. So I decided if I wanted to do something the only way I would be happy was if I did it all myself.
1/09 I bought the PD150 head for $300 and sent it off to get ported, figured since my timing belt was about due to be changed I would just swap on the 150 head at the same time. That was a great idea, until I found the turbo and intake 2/09. I wasn't sure how I could get time to build everything, but started planning the header design. I spent a couple months planning and figuring out how the new system would fit and function. 5/09 I met with Bora parts and started talking about parts and availability. I started thinking about more power vs. the bottom end. Then more power vs. 02J 5 speed. Since I am the type of person that likes to do things once, I decided to do a full rebuild with Rosten rods and the 150 head. Of course it didn't stop there, 6/09 I was offered a new set of BHW 2.0l pistons for $220ea. I decided that I could do that as well, too good of a deal to pass up, they retail for $378 a piece. Now everything starts to snowball.
I found a local member that was looking for a complete performance setup. I was able to sell my old turbo, Boost Factory SMIC, custom I/C piping, intake manifold, TIP, transmission, DC st3+ clutch, Peloquin, etc. in one fail swoop. This opened up the 6 speed conversion option, so I called Bora Parts and had him set me up. They had not made it to the US yet but were arriving shortly.
07/03/09: Drove the car up to Fixum Haus and the old parts were stripped off, and mock-up commenced
08/05/09: Engine and trans were removed, and torn down
08/10/09: Transmission arrived
09/08/09: Engine dropped off at machine shop.
10/20/09: Engine reassembled
10/25/09: Engine and Trans mounted in the car
11/05/09: Car is loaded on a flat deck and moved 20 mile to the weld shop
11/15/09: The car started and drove again.
A big Thanks goes to Rich and Marcell of FIXUM HAUS, my car hung out in their 3 bay shop for 4 months. There is no way I could have done this without them. They are some of the best TDI mechanics in the PNW and beyond.
Teaser...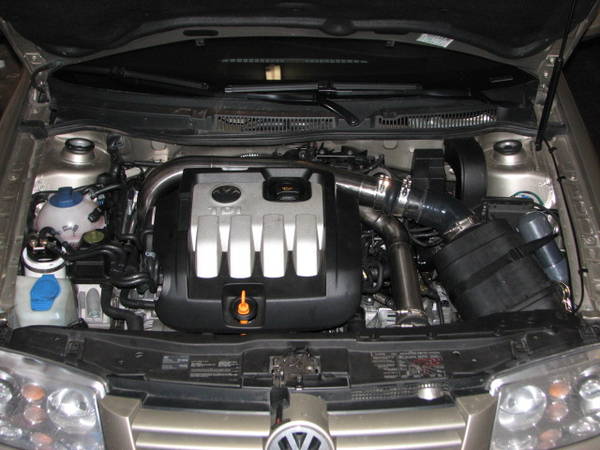 Last edited: