For reference purposes, and to avoid confusion, there is a convention used in wiring. The first colour is the basic one and the second is the stripe. Black/Red would be a black wire with a red stripe, while Red/Black would be a red wire with a black stripe.
I am assuming you connected the White/Yellow and White/Blue wires to supply the charge relay with switched 12V. This should activate the Heater relay and supply power to fuse 7B.
The blower motor Blue/Black wire is grounded through the resistor pack and speed selector switch. Grounding this wire will prove the motor works and point to the switch or resistor as the cause.
The fuel pump relay is operated by the White wire from the Charge Relay through fuse 6 and the White/Red wire on the diodes, or the Yellow wire which comes in on the left from some other source. Or is that fuse 5A? It is hard for me to make out the print on that part of the diagram. The other source may be what is keeping the fuel pump running.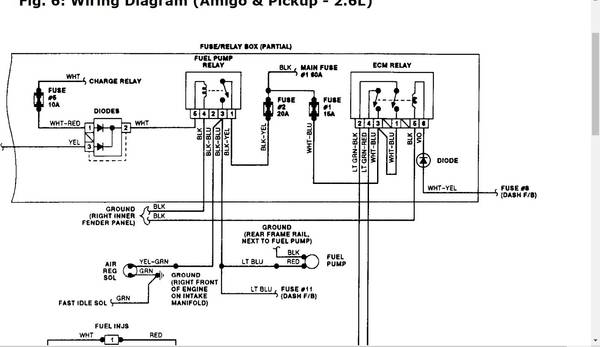 __________________
I've learned so much from my mistakes I'm thinking of making some more.
Equipped with VCDS and a hoist in a heated shop.
I was told I have every tool known to man.