This year, for our summer holidays, Mrs. PlaneCrazy decided she wanted to attend her 30th anniversary class reunion at Atlantic College, in St. Donat's, Wales. So most of the rest of the family tagged along and turned it into a 12 day road trip around the best bits of Wales and parts of England.
As it happened, getting there was none of the fun, with a 12 hour flight delay that caused us to lose a day (and getting back was just as bad, we were caught up in the Heathrow security scare). So instead of arriving at 10h00 on Monday Jul. 31st, we arrived at 21h30. A 5 hour drive to our first stop in Wales was definitely not on the program. So we elected to pick up our rental car and head for a Hilton in Bracknell, near Reading (about 30-40 odd miles from Heathrow).
We were tired and beat-up from the trip. When we got to Europcar, we faced our first, and as it turned out only disappointment (other than the flight mess). And as it happened, it wasn't really a disappointment. You see, the reservation said "1.9L Passat TDI or Equivalent". The "Equivalent" turned out to be not a 1.9 (105 hp) PD Passat, but rather a Seat Altea. What is that you ask? It is this: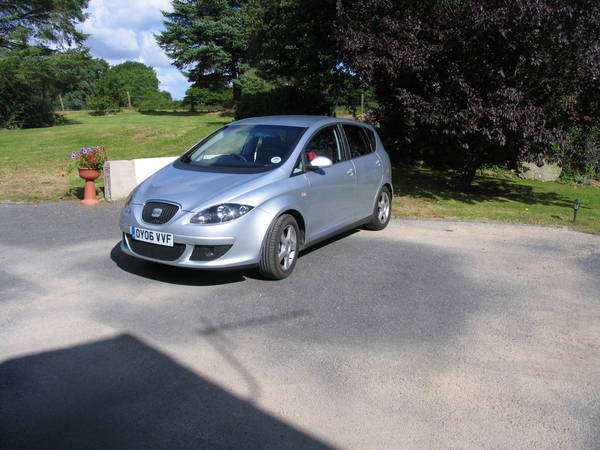 It's based on the Golf V platform (and is more or less a sportier version of the Golf Plus, from what I figure). Why was this not disappointing? Well apart from the somewhat tight trunk (boot?) space which barely swallowed our luggage, this car turned out to be a blast to drive. A clue as to why it wouldn't be boring was this: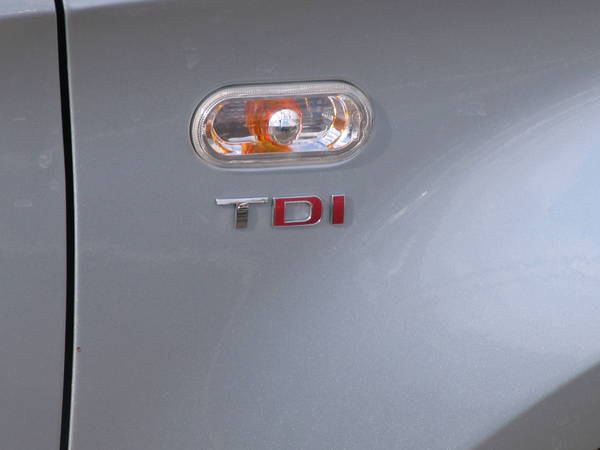 Yep, the red "DI" in "TDI" signfies the 2.0 L PD engine (138 hp, 236 lb-ft in UK trim). Some cool things on this car. Go back to the first picture and try to find the wipers. Hint: the park position for the wipers is inside the "A" pillars!
Here she is, undressed (I guess Europcar takes the engine covers off to facilitate maintenance):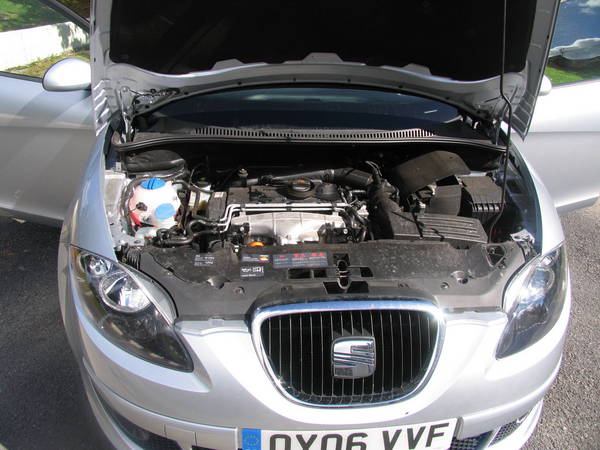 My office for the next 1500 miles was this: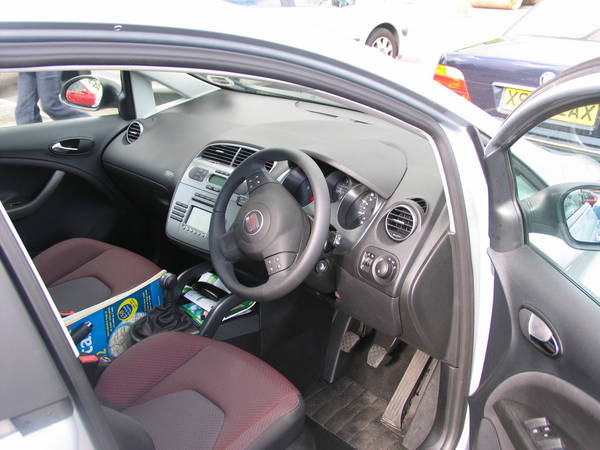 As you can see from the picture, it had a manual tranny. What you can't tell from the picture, was that it was a six-speed. This is the engine/tranny combo that our B5.5 Passat just cries for!
This machine has serious punch. In fact 0-60 mph in 9.3 according to CAR, with an electronically limited 130 mph top speed.
So, on a dark and stormy night as it were, we hopped in for the short drive to Bracknell. As my wife said, as I negotiated the first of many roundabouts on the trip, in the dark and the rain, "it's a good thing you've done this before" (meaning: driven on the left). It only took me a minute or two to acclimatize to driving on the left. As my wife said, I'd done this before. Several times in fact. We quickly found our way to the M4 westbound, and opened 'er up. My wife said "it seems like an OK car but it's noisier than our TDIs". It was about then that I discovered two things: it had a 6th gear, and the sweet spot was 2500 rpm/80 mph in sixth.
So, onward Christian soldiers, and we were soon in Bracknell and thankfully in a fairly comfy bed after the ordeal of getting on a plane 2 hours late, being kicked off a plane, getting to a hotel room at 2 am, getting back up at 5 for an 8 am departure, which was further delayed until 10 am, then a 6 hour flight.
Next morning, we packed up the car and prepared to motor on, but not before my son Zack found some exotica lurking in the hotel parking lot: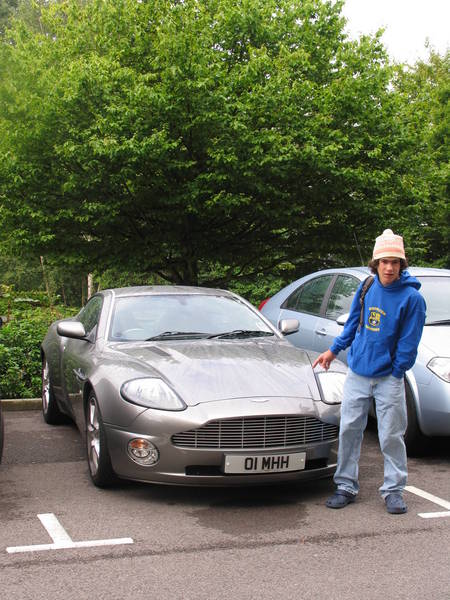 Yes, an Aston Martin. We suspect James Bond was spending the night at the hotel. No doubt with some exotic beauty as well...
After a drive of around 4 or so hours, we finally hit our first destination, the Pembrokeshire coast. Initially we had planned a two-day stay here. But the flight delay cut that back to one day, which was a pity, because it was a truly lovely place. And the weather you see in the next picture, was pretty much the standard for the whole trip, as we only had about one morning of rain apart from a few evening showers, and that rain was on an otherwise boring motorway drive and cleared up when we reached our destination. I digress: here's an example of the scenery we were treated to: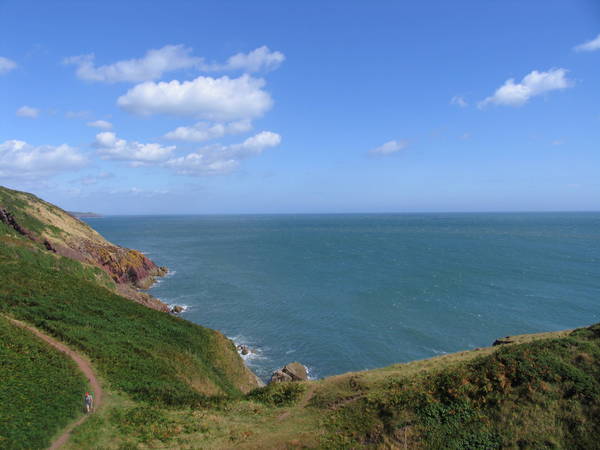 Unfortunately our stay here was too short, and the next day hit the road for a good day's driving to our next destination, Llanberis in Snowdonia. We first drove to St. David's to see the small city and historic cathedral: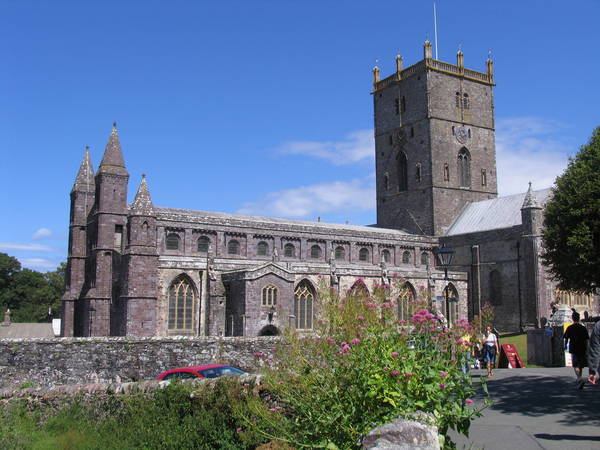 Next we made a brief pee stop in Aberystwyth, taking the time on our parking meter to snap a few pictures of some of the dramatic headland scenery on the seafront: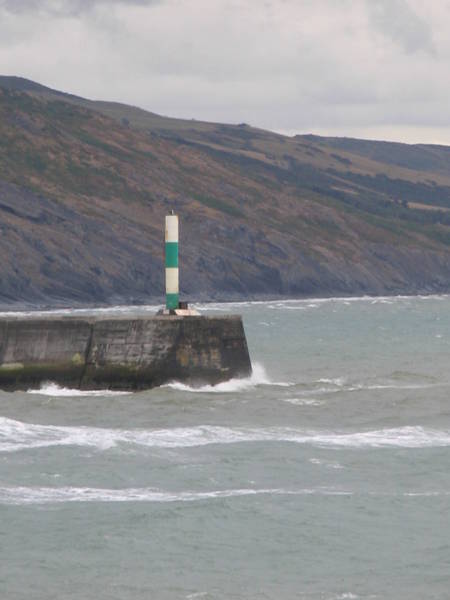 We then continued our drive. The drive was, to say the least, challenging. We were on "A" roads, but very narrow and twisty "A" roads. Driving at 10/10ths the whole way (peaks of 60-70 mph, with rapid decelerations and accelerations for villages, curves, narrow bridges, etc), the MFA indicated about 40-43 mpg (imperial) with a tank range of just under 500 miles. Just out of Aberystwyth we had to stop for fuel. I didn't measure the economy because the tank wasn't vented obviously, but when we filled up the MFA showed 550 miles or so to empty.
By the time we stopped on our way up to the Pass of Llanberis, I was getting pretty beat from the very intense driving. Fortunately the Altea is a great little car. I wasn't all that keen on the looks, but if this is what the Golf/Rabbit V chassis is like, then I can hardly wait for a TDI version of the Rabbit. I'll buy it in a heartbeat as our no. 2 TDI (and a nice B6 Passat Wagon as the no. 1!).
We stopped to enjoy the scenery as we climbed up into Snowdonia. Don't pay attention to my son hamming it up. Actually, a sidebar concerning Zack. As we started the trip, my wife was my navigator. At one point however, a small squabble with his younger brother pushed Zack into the front seat (the DMZ). He took up the navigation duties. Zack is 14 and learning to fly with me. He took to his task with zeal and I fired my other navigator (my wife) which turned out to be the best move I've ever made for our marriage of late (we always end up in a fight..."you should have gone LEFT you idiot!"...."I tell you it was RIGHT dammit..."). Anyway, here's Zack and the Seat taking a well-deserved stretch break: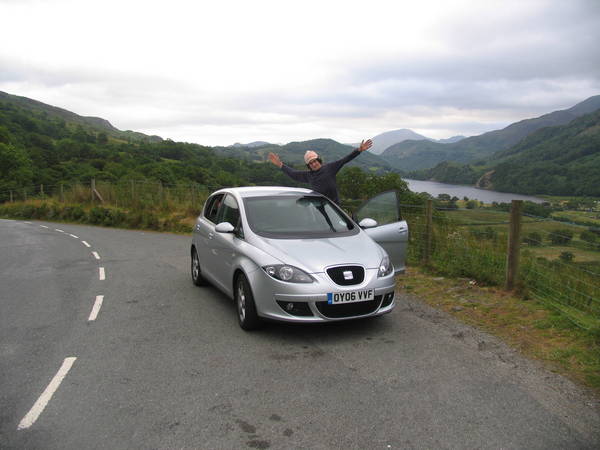 (
continued
)