I am not a fan of dark tinted glass. Although it reduces direct heat from the sun, the glass itself gets much much hotter than non tinted glass. The best way to reduce both direct solar heat as well as heating the glass itself is to block and reflect solar heat before it enters the glass. One way to do this is to install white perforated window film on the outside of the glass. ( This is very popular for Phoenix airport shuttles )
Another way is to install reflective film on the outside of the glass, but this is not possible for side glass as it would potentially blind other drivers.
But why not on the Pano roof ?
So I bought some film on ebay designed for house glass: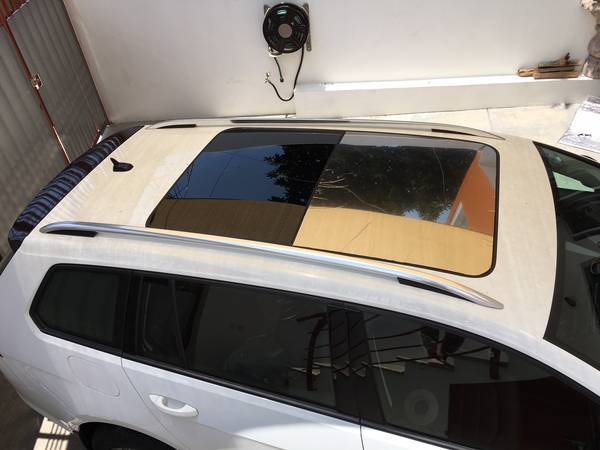 You can clearly see the difference from above.
After also doing the rear section, this is what it looks like from inside :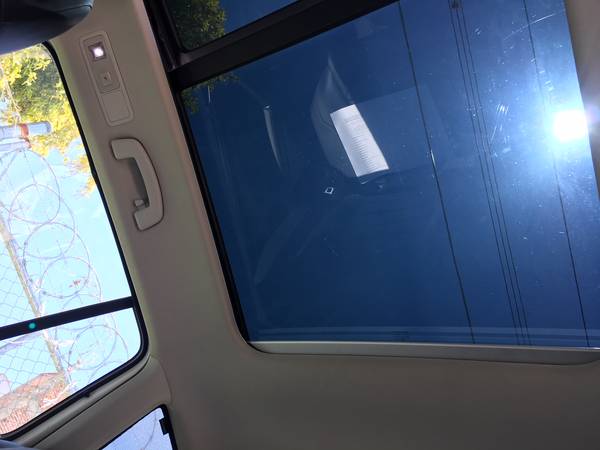 I don't have an infared thermometer, but by touch I think the glass itself went from 180 degrees to maybe 120 or so. Big difference.
I think the idea is great, but my installation not so great. The film is made for flat glass and I ended up with a lot of creases for the front section and a couple for the rear. Maybe I could have used a hair dryer to get rid of the creases and I may try that since I have enough film to redo the front.
The film is super thin and has a layer which needs to be removed, wow did I have a hard time separating the two !
Anyway I think I will probably always have this reflective film on the roof glass. Happy with the drastic heat reduction.
As a bonus, I am reducing global warming with the film